If you've been following my blog posts, you'll know that last week I was on a yoga/surf adventure called Chasing Waterfalls led by Megan Pischke. This is part 2 of the Chasing Waterfalls post, so best to read part 1 first, to be able to follow along.
Dominical was our meeting point to depart on our all-inclusive girls adventure to the Osa Peninsula and Chirripo Mountain, Costa Rica. Chasing Waterfalls promised waves, waterfalls and nature, but I experienced SO much more and it's hard to put into words, so I've included loads of photos in this post! Megan set out an itinerary that allowed us to truly experience the magic and 'pura vida' that is Costa Rica. Before this trip, I'd been to Costa Rica twice, but I'd never really moved around or gone beyond the beach. While the beaches in Costa Rica are pretty fantastic, there is another world a bit off the beaten path.
There were 11 girls, including Megan. Most had a prior connection to Megan, whether through Squamish or snowboarding. The majority of us had ties to the Sea-to-Sky area, plus there were two Portland chicas, a Vancouver Island yogi, and a Brooklyn babe.
DOMINICAL (and area)
I arrived in Dominical a few days before the retreat and planned to stay the week that followed, mostly so I could meet people and get a feel for the area. We had a couple days to play before the whole gang arrived, so we stayed at Megan's "blue shack" and she took us around to a few different beaches to play in the surf, do some sandy yoga, drink cold pipas and eat roadside ceviche out of a styrofoam coffee cup (which just so happens to be the best ceviche I've ever eaten). Good times at Playa Dominical, Dominicalito and Playa Hermosa: each beach offered a different variation of sand and swell. From what I understand, the waves at Playa Dominical are pretty consistent, year round. Whereas Hermosa and Dominicalito can be more rookie-friendly. The day we were at Hermosa, the groms were out in the surf in full force, popping up on their boards so effortlessly. Could watch them for hours.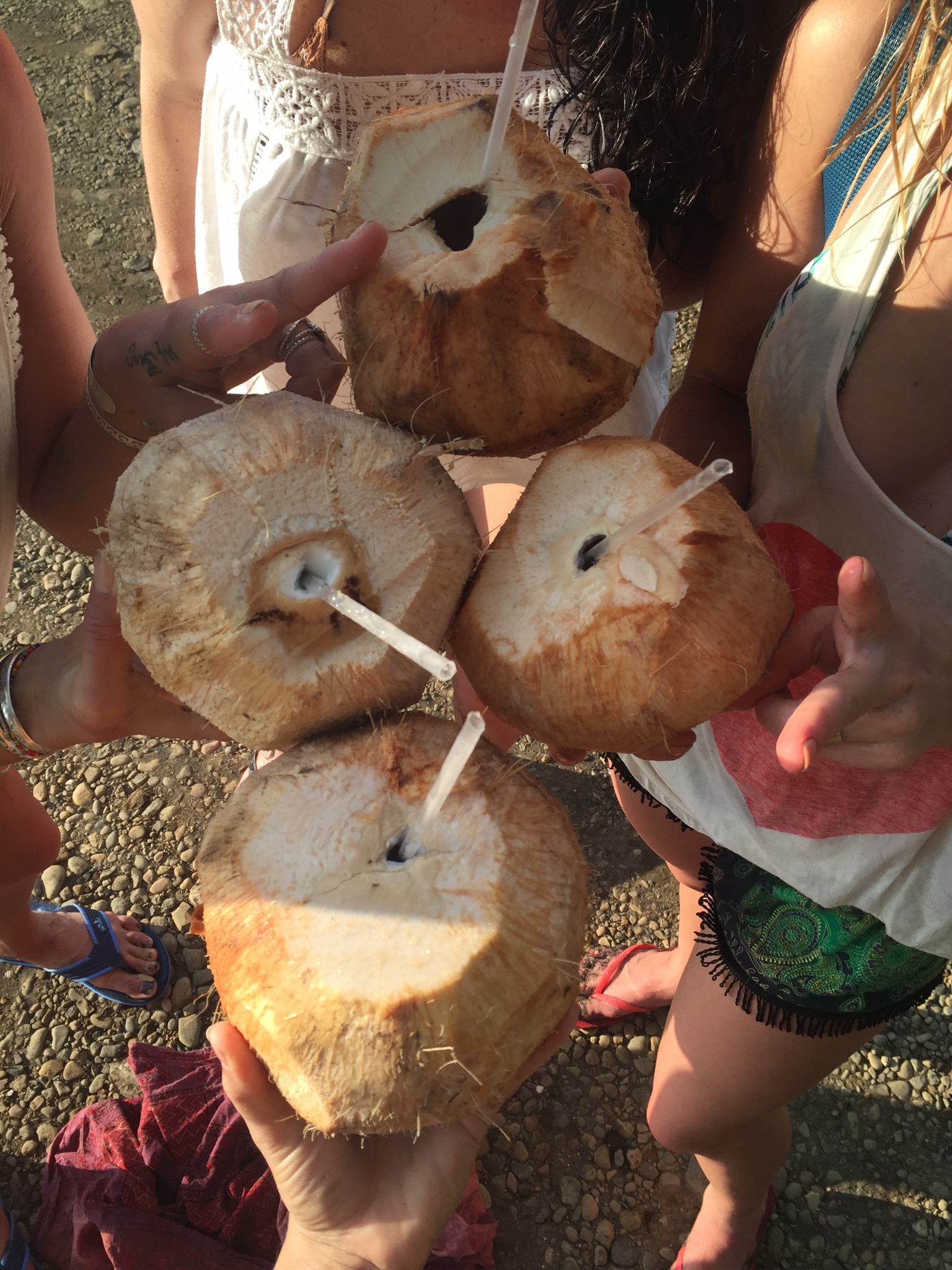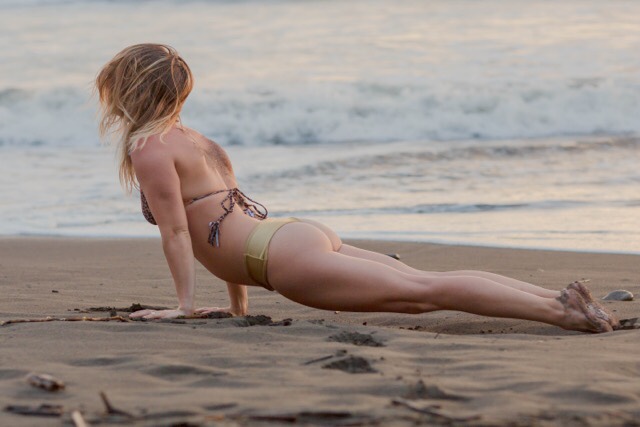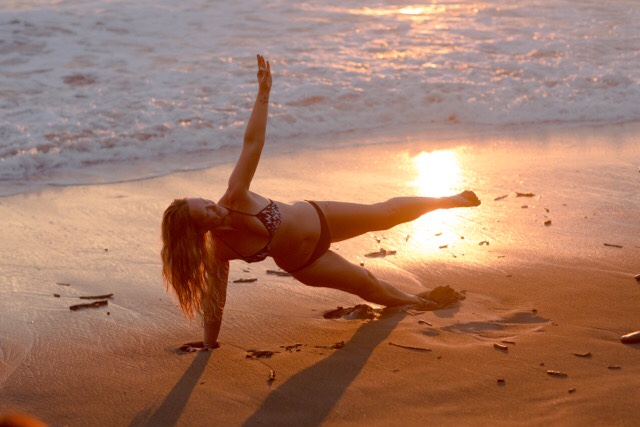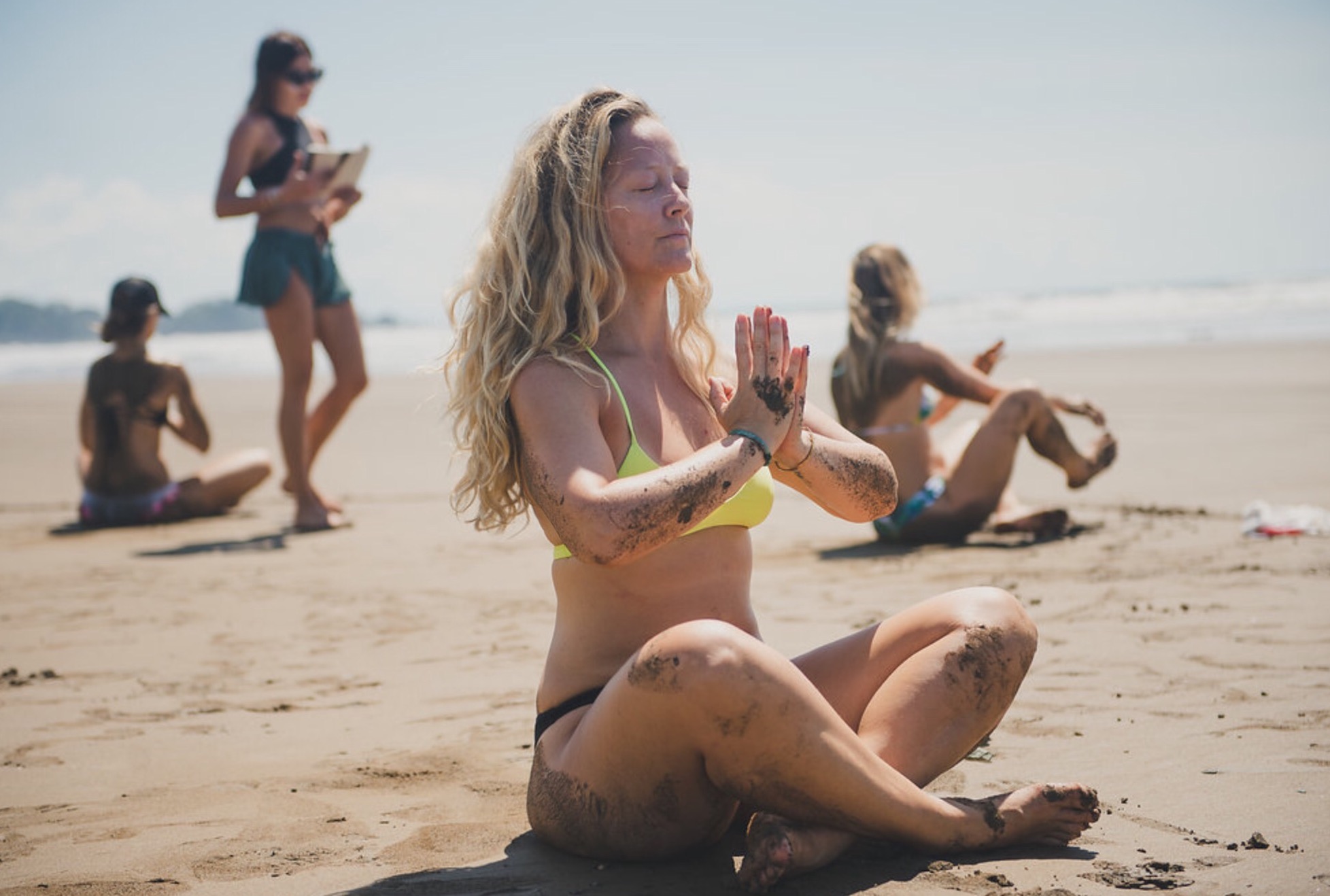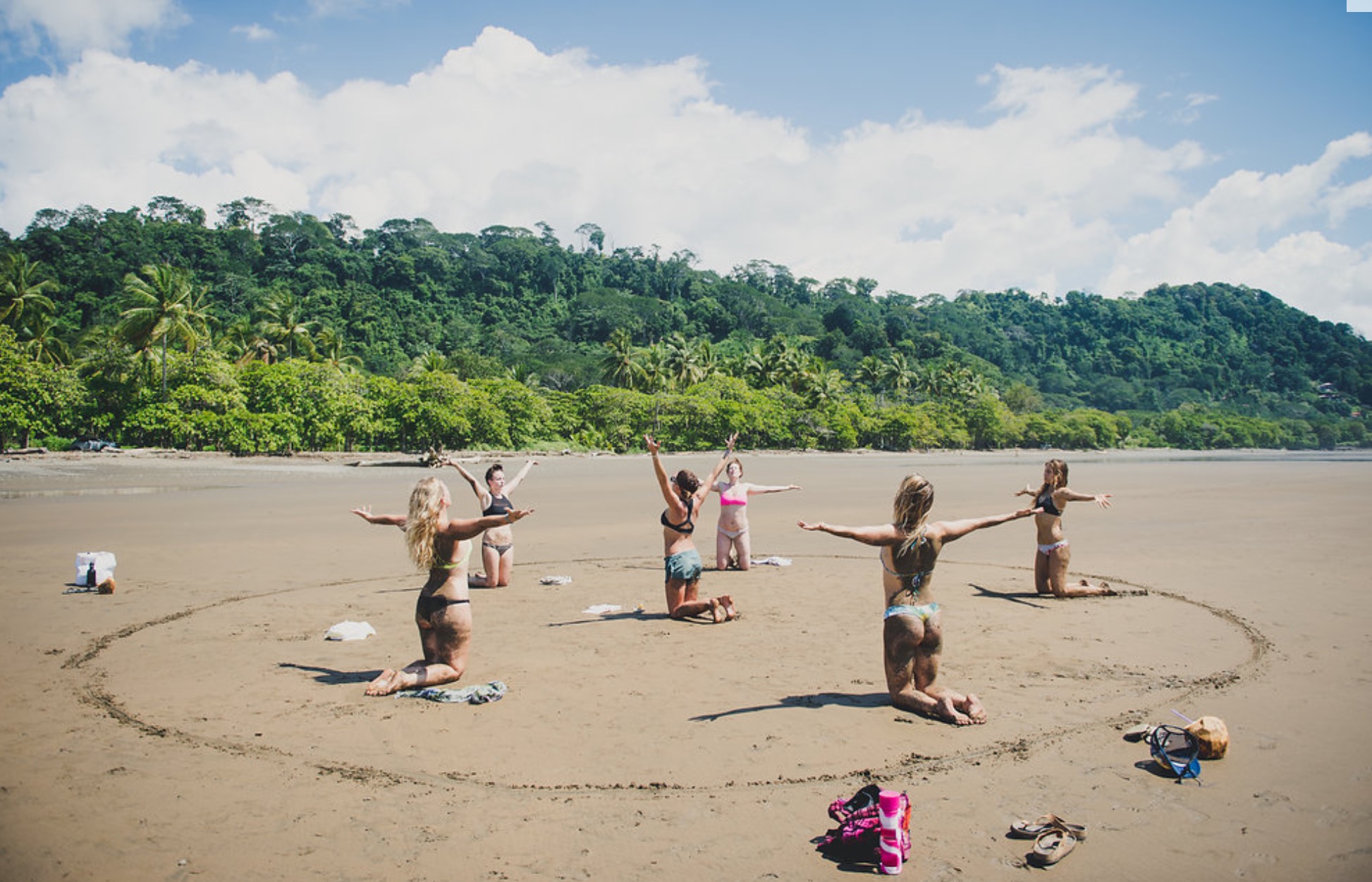 Downside of the Dominical area (Uvita, Domincalito, Escaleras, Hermosa, Ojachal) is that there are a lot of places to explore and you really need a vehicle to do so. We settled on tourismo taxi vans to get us to Hermosa, but that could get pricey if you were using them everyday to get around. A 20 minute ride was $20. If you're only interested in big surf at Playa Dominical, you can totally make it work by staying in Dominical town and getting around on foot.
The coffee snob in me was delighted to find a cafe in Dominical with a good Americano and fresh juices. Thank you to Cafe Mono Congo, it's Canadian owners and friendly staff for the good vibes. It made it easy and pleasurable to sit for a couple hours, write blog posts and people watch. Ambience is nothing if you don't know how to pour smooth espresso, in my opinion. I could probably devote a whole blog post just to my love of the coffee ritual, but I'll leave that to when I'm bored and don't have anything else to write about. haha
That being said, there's a big development push in Dominical right now, with a recent sale of a couple large parcels of land that border the beach and stretch through the centre of town. There's a big question mark hanging over Dominical's head, as long-time residents seem to be in the dark as to what it's future holds. Workers started to cut trees down from the beachfront to clear space for a parking lot. The trees along the beach provide much needed shade. The community was able to come together to put it on hold.
Dominical butts up to the mouth of the Baru river. In another matter, a dyke was erected along the south side of the river bank and, a source says, without consultation from the community or formal engineering advice. There is a need for a dyke since the town is built on the river delta, which makes most of it at or below sea level, which is concerning. There is criticism that it was not built properly and, little by little, it is washing away, building up silt at the river mouth and making an already turbulent current, worse. The day we arrived in Dominical, we unintentionally wandered up to the river mouth and came upon a somber looking group crowded along the rivers edge, while 2 ambulances waited up on the bank. We found out later that a local fisherman had drowned, perhaps not familiar with the new currents of the river mouth. A community group has formed now to take the dyke project on. I just realized I sound like a reporter, but I guess I just want to help them by giving them a voice.
HIt will be interesting to see what comes of Dominical in the next five years. Condos and fancy new commercial areas would really change the vibe here. No one wants to see it turn into the over developed beach communities of Jaco or Tamarindo, known not-so-affectionately as "Tama-gringo". From what I can tell, none of this will happen fast. For me, coming in as a potential investor, it's hard to place my bets (and my future) on Dominical without knowing what the future holds for this little surf town. Worth more conversations on my part. I would open a business in Dominical, but I think I'd choose the outer area to live. It needs to be cleaned up a bit, but personally, I like it the size it is. The surrounding area is an option for me, I really liked Playa Hermosa, but growth has already started in these areas and I'm about 3 years late buying property. This seems to be the theme with Costa Rica. Plus I just saw that the Canadian dollar dropped down another cent today to $.73. Ouch. That hurts. At the rate it's plunging, I may need to hold on to my money. Otherwise, I would definitely need some sort of investor support for me to make it work here in Costa. So...know anyone that wants to be my business partner? Preferably someone with a US bank account. While I'm at it, tall, dark, strong and handsome, good communicator, kind. The perfect property ocean side within my budget. Joy and happiness, peace to the world. If I'm manifesting, I may as well throw it all in there. Haha
ECO CHONTALES (Waterfall 1)
Day 1 officiale of Chasing Waterfalls, we all packed into our chariot and drove an hour up a windy dirt road into the mountains, past mostly cow pastures, to get to our first waterfall stop, Eco Chontales.
We picked up Tree Jenny (Jennifer Leigh Smith) on the way up and for the next 45 minutes she spoke with utter enthusiasm about the importance of rainforest reforestation within 10 degrees of the equator, the difference between mono-cultured and biodiverse reforestation, sustainability, the dirty politics of Palm Oil plantations and United Fruit, building a fair community labour program, conservation, speaking on climate change, and how she came from being a Lawyer in the USA to living in Costa Rica and starting Association Community Carbon Trees (ACCT). After an hour with Jenny, you can't help but feel enthusiastic about planting trees in Costa Rica and protecting the rainforest too. Payne family, Merry Christmas, you're each getting a rainforest tree. I'm not doing Jenny's work justice by just talking about it here. Go to her website to learn more about communitycarbontrees-costarica.com, but also give her some love on social media, follow her on Instagram and Facebook, maybe come to Costa Rica and volunteer, and buy a tree! Sponsoring a tree is such a great way to engage young kids about the environment. Megan and DCP have been huge supporters of the ACCT cause, and now snowboarder Jeremy Jones has jumped into it too. As a member of 1% for the planet, in 2015 Jones Snowboards announced a partnership with ACCT, donating a portion of their annual contribution to ACCT through the climate change organization Protect Our Winters (POW).
We arrived at the farm and Jenny led us on a hike down to the waterfalls. You couldn't really see the waterfall from the trail. We snaked our way down the path and came around the corner to come face to face with the falls. Immediately we were blasted by the force of it. The surge of tiny droplets of water in the air muted the colours of the flora that lined its banks. As we got closer, a rainbow at the base of the waterfall came into sight. It was an emotional moment that brought tears to my eyes. I lost my breath. It made us stop in our tracks and turn our faces, eye closed, to the wall of water in front of us. It was so beautiful and so freaking powerful. I jumped out of my clothes as fast as I could and into the pools below. We all did.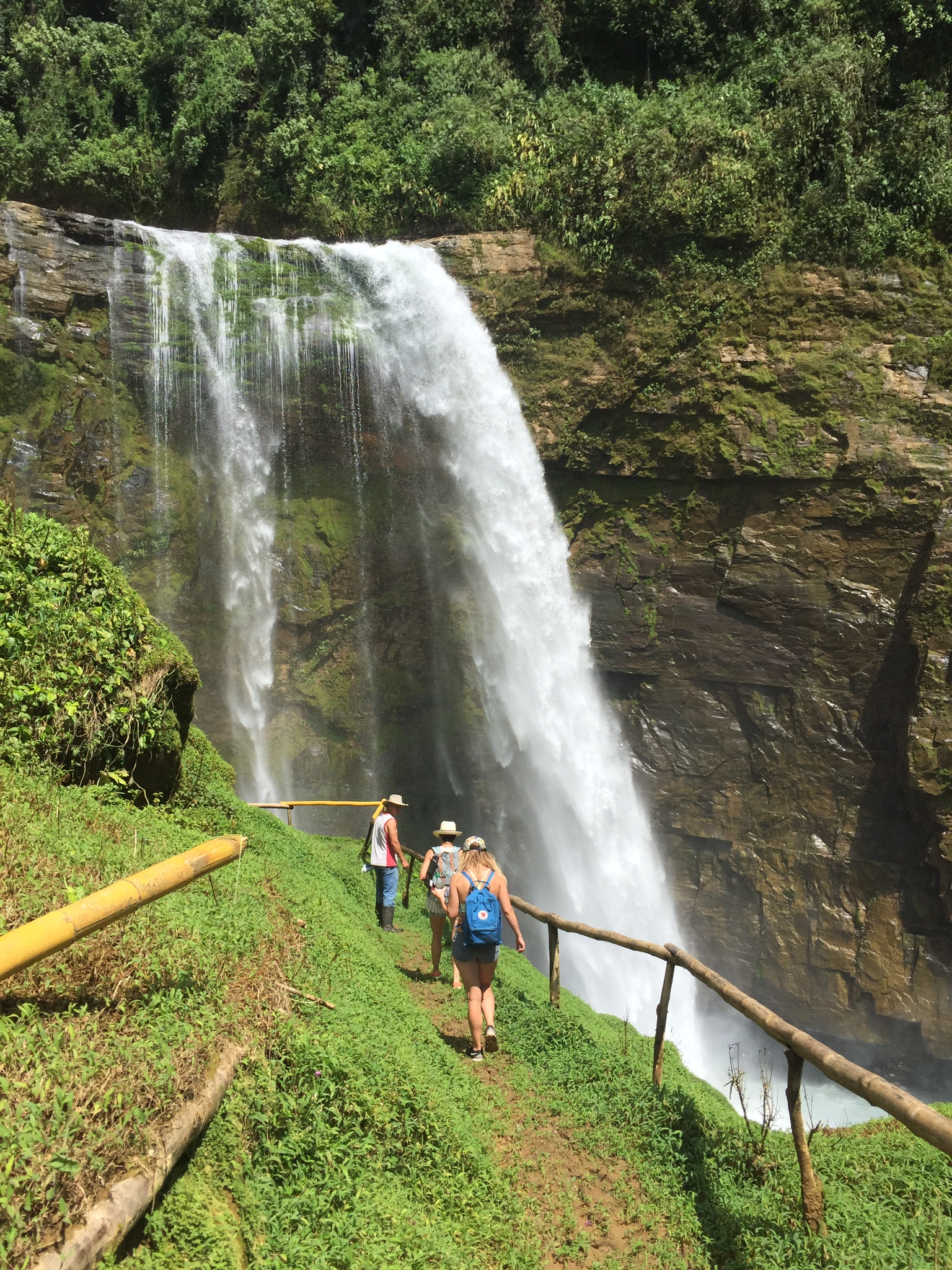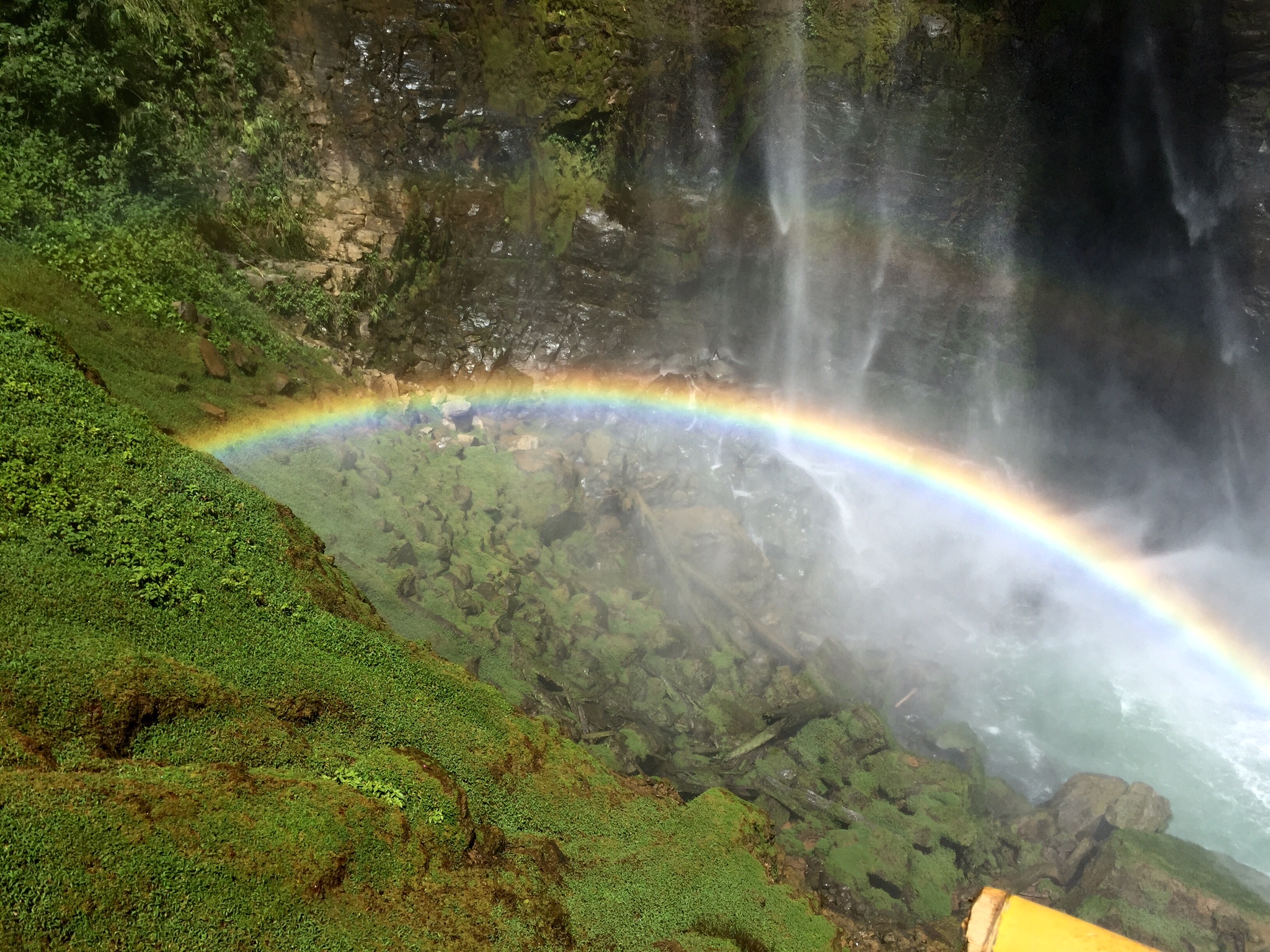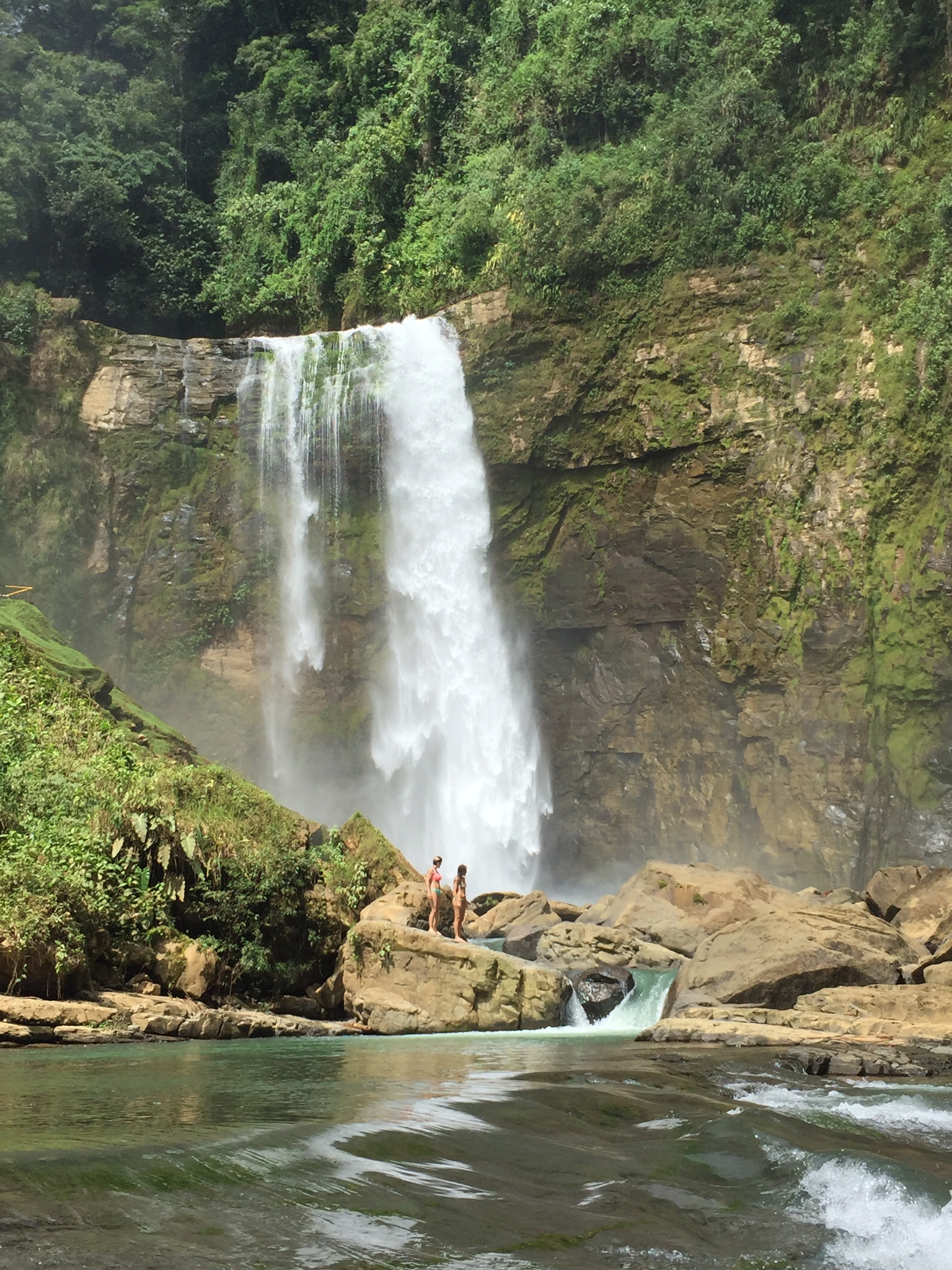 The remainder of the afternoon was spent riverside, jumping off cliffs, half-naked, scrubbing our skin with coffee and salt, caking ourselves in clay and lathering up with some sort of green leaf infusion, courtesy of JungleMama Naturals and Tree Jenny.
We got our fresh-skinned selves out of our wet bikinis and into something a little dressier for our first dinner out as a group. We filled ourselves full of food and margaritas, which helped to put me to sleep early, which was perfect since I needed to pack my stuff and get ready to go for the 7am pickup the next morning. For me 7am is early, even here, where dawn and dusk arrive at the same time everyday. I'm neither a late night person, nor an early bird. I like my sleep, I always have. 8am seems to be my natural rise and shine time and it's 9pm when I start to yawn and need to turn in. I just read here that women actually need more sleep than men, something about our brains being more complex. Ahem. I'm going to run with that...
So, our 7am departure turned into an 8:30ish departure. In true Tico steez, we walked out of the gate to find that the dirt road in front of Megan's place was dug up and in the process of being steamrolled. They weren't letting any vehicles pass on it. Luckily Paul and Spencer, our drivers for the 3+ hour haul to the Osaeninsula, were able to sneak the van in and grab our piles of luggage. (You can only imagine how many bags 11 women bring to Costa Rica). We all got separated waiting for the guys to load the van, grabbing coffees, etc. and it was like herding cats for Meg to get all 10 girls into the van. But she did it! And then we were off to Cabo Matapalo.
Stay tuned for the next blog post about Matapalo! Matapalo has been my favourite place so far.