I wrote most of this post, iPad in lap, on a bus north bound from Dominical to Manuel Antonio. I should have been heading in the opposite direction down to Pavones (better known as the second longest left in the world), but at the last minute made the decision not to go. Initially I was trying to hook up a ride to Pavones, but unfortunately it fell through. I reevaluated my reasons for going there, it is isolated and hard to get to, plus I didn't feel like taking 4 buses and wasting a day of travel to get there. I headed to Manuel Antonio instead and lined up a ride from there to Liberia so I could make my way North and get closer to Nicaragua. My gut screamed at me to get out of Costa Rica, mostly because I was bleeding money.
So back to the third instalment of Chasing Waterfalls... It's been taking me awhile to get these out and I'm about two posts behind. As I mentioned in my earlier posts, you'll need to read Chasing Waterfalls blog posts #1 and #2 to get the full story.

MATAPALO
9am and well caffeinated, our gaggle of girls was on the road to the Osa Peninsula. It's pretty much a straight shot down to Piedras Blancas, then the road wraps around the inlet to Puerto Jimenez and then continues as a dirt road, through rivers and giant potholes to Cabo Matapalo. As much as napping could have been an option, it's pretty hard to sleep when your head is bobbing around as if it's disconnected from your body. Plus, with that many girls there was never a dull conversation or a PG conversation, for that matter. You could see Spencer, our driver Paul's surfer son, snicker at some of the stuff he was hearing. I can only imagine what it was like to be a 17 year old boy riding in a van full of women. He was a good sport.
Friends, I'll let you in on a little secret, Matapalo is paradise. Keep that on the down low. The roads are not well maintained, as a measure to keep people away. It is secluded and lush and tropical and magical and...wild. The jungle spills out onto the beach: squirrel monkeys, howler monkeys, white-faced capuchin monkeys, pezotes, toucans, Scarlett macaws. Ummm, but don't go there, it's horrible. 😉
There are a number of Eco yoga retreats on the Osa Peninsula. The one we stayed at was called Encanta La Vida, which translates to English as 'enchanted life' or 'loves life'. It truly is a special place. I'd go back in a hot second. The general housekeeping speech from Kate included a warning to watch where we stepped and where we put our hands, to stay out of trees, to check inside shoes, to shake out clothes and to examine our beds before we got in. The dangers of jungle life. Boa constrictors and venomous snakes, scorpions and big ass spiders abound. One of the girls had a close call with a scorpion, but luckily was able to flick it off before it stung.
The next few days at Matapalo included a rotation of eat, yoga, surf, chill and our next waterfall.
EAT: All food was included, served buffet style, and it was healthy and tasty. By that point I was really craving vegetables, so the veggie-heavy menu hit the spot. 'Tipico' Costa Rican cuisine consists of a lot of starch, mainly rice and beans or Pico de gallo. Rice and beans don't really agree with my sensitive digestive system.
YOGA: There is no better place to do sun salutations than on a platform in the jungle overlooking the sea, listening to the waves crash on the shore, a chorus of birds, crickets and howler monkeys setting the playlist for the practice. My body wasn't cooperating, but I'll get to that in a minute. Amy Khoo, from Shooting Star Yoga Studio, boated over from Pavones to lead the sessions for us and also to do massage.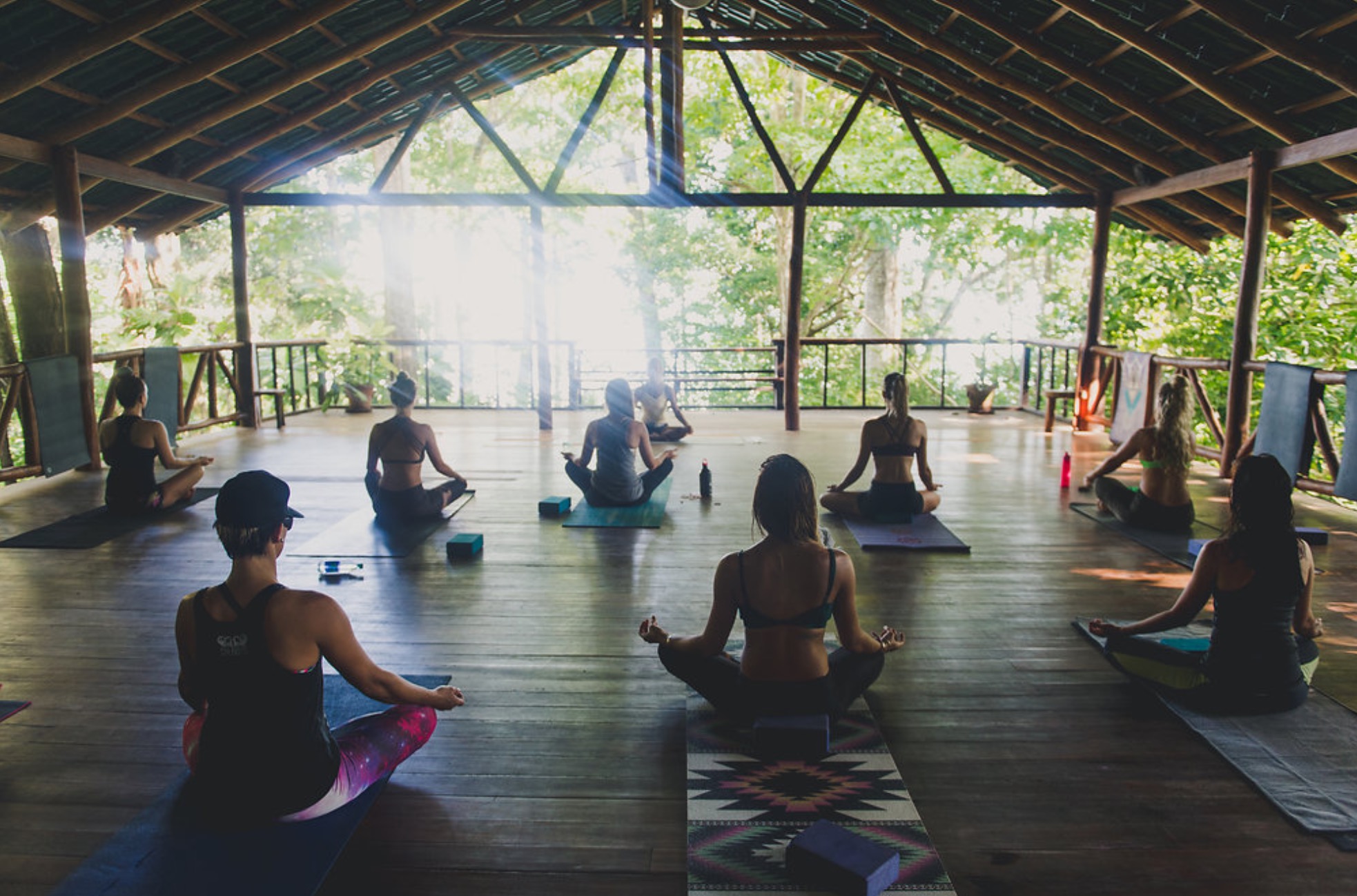 SURF: Matapalo has some beautiful surf breaks. There are 3 point breaks butted up to each other, depending on what you want: Pan dulce, Backwash, and Matapalo. We opted for the softer Pan dulce, a right hand break perfect for longboard waves. The waves were small when we were there and perfect for beginners, which even after 15 years and umpteen lessons, is still me. Ugh.
I want so badly to be a surfer, yet I am so fearful. I get paralyzing anxiety just thinking about it. I pay for a surf lesson most times, not because I need the instruction, but because I'm reassured having someone else in the water with me, helping me get out to the waves (and sometimes doing the paddling). Thank you to Amy (for the massage), but also for helping me to talk through some of that fear. The power of the waves and my loss of control over them scares the shit out of me. The fear and anxiety manifests as pain in my body and it pops up in different places: my neck, my ears, my lower back, my eyes. I finally saw the pattern. This time in Matapalo it manifested as an ear full of water that wouldn't clear, which gave me vertigo, and then as a piercing pain between my shoulder blades. The pain stayed with me the whole time in Matapalo, and it burned each stroke I paddled and every time intrude to extend my body off the board. It also affected my yoga practice, not being able to stay in downward dog. As soon as we left the beach, the pain went away. Coincidence, I think not.
I went through in my head all the times that this 'surfing' fear had manifested in my body. It was a sacrum thing in Santa Teresa, Costa Rica four years ago. It was a neck thing in Maui, HI. It was headaches and eyesight in Mancora, Peru. The list goes on. But I also realized that it wasn't just surfing that brought it on. It was foot pain in Hakuba, Japan snowboarding in deep Japanese powder. It was foot pain again split-touring in the Whistler, BC backcountry. It was sinus stuff getting my dive license in Koh Tao, Thailand. It was my eyesight while playing softball in Squamish, BC. It followed me all over the world! Ha! Having pain in my body gave me an out, it gave me an excuse to quit or complain. An excuse for myself, but also an excuse to tell others. I could see the pattern in other areas of my life, where I've blamed my body for what is going on in my brain, especially when I feel like I'm not in control. For me, this realization is profound. I signed up for this mid-life awareness thing. Shit, shit, shit. Now what? I have to continue writing about Chasing Waterfalls, so I'm going to parking lot that issue right now and come back to it when I'm ready.
WATERFALL: Our last day in Matapalo we made our way to the 2nd waterfall of the trip. This one didn't have the force that Eco Chontales had. It was smaller, but just as mesmerizing. This one you could stand right underneath and have the water cascade down on your head. The canopy of trees formed a halo at the crown of the falls which gave it a different kind of magical feel. The leaves filtered the intense sunlight and dispersed it as individual beams into the dark waterfall pool below. We each took turns getting our waterfall photo shoot and hopped back in the van for the long ride to our next and final stop in the mountains, Finca Mia.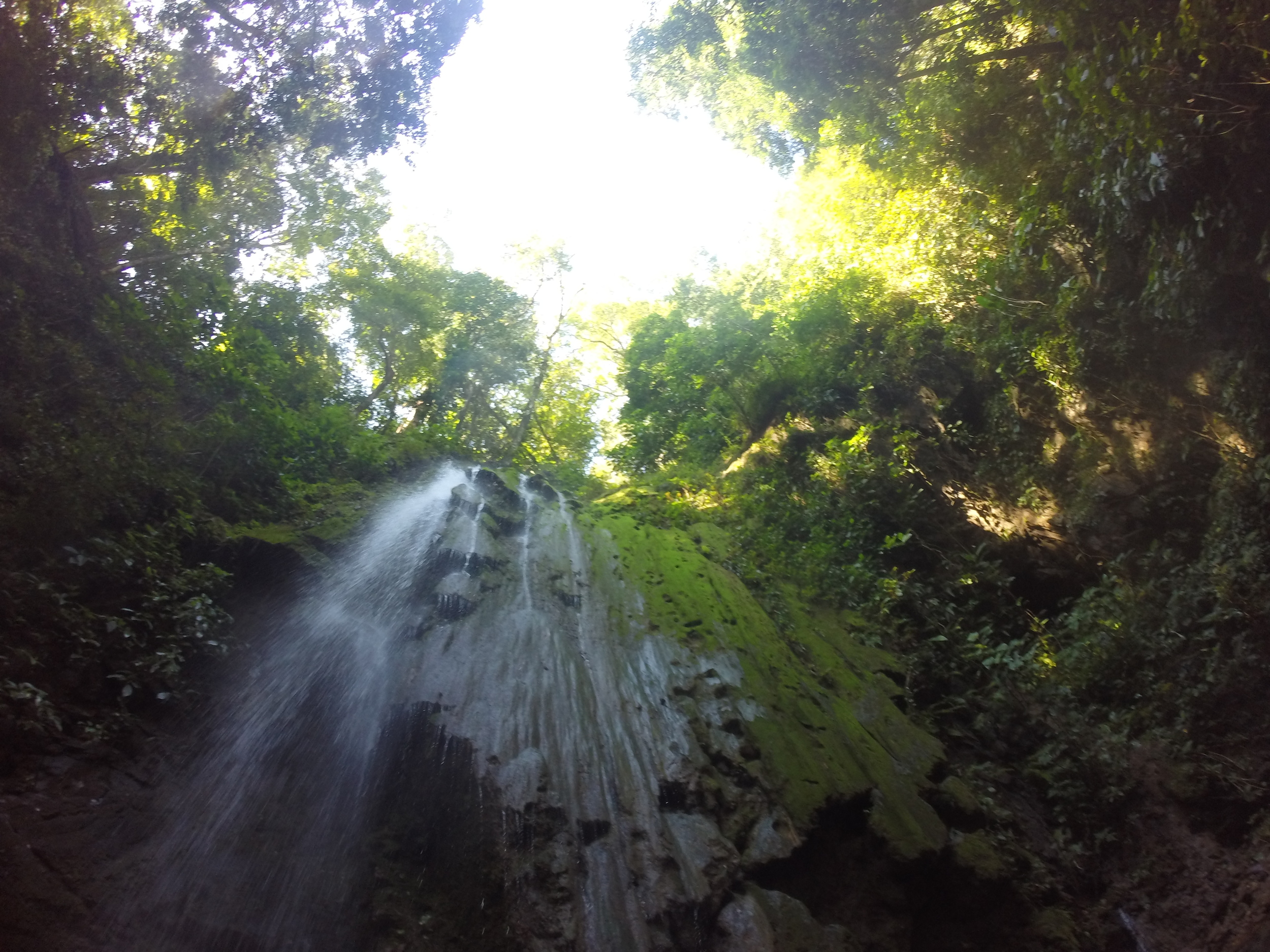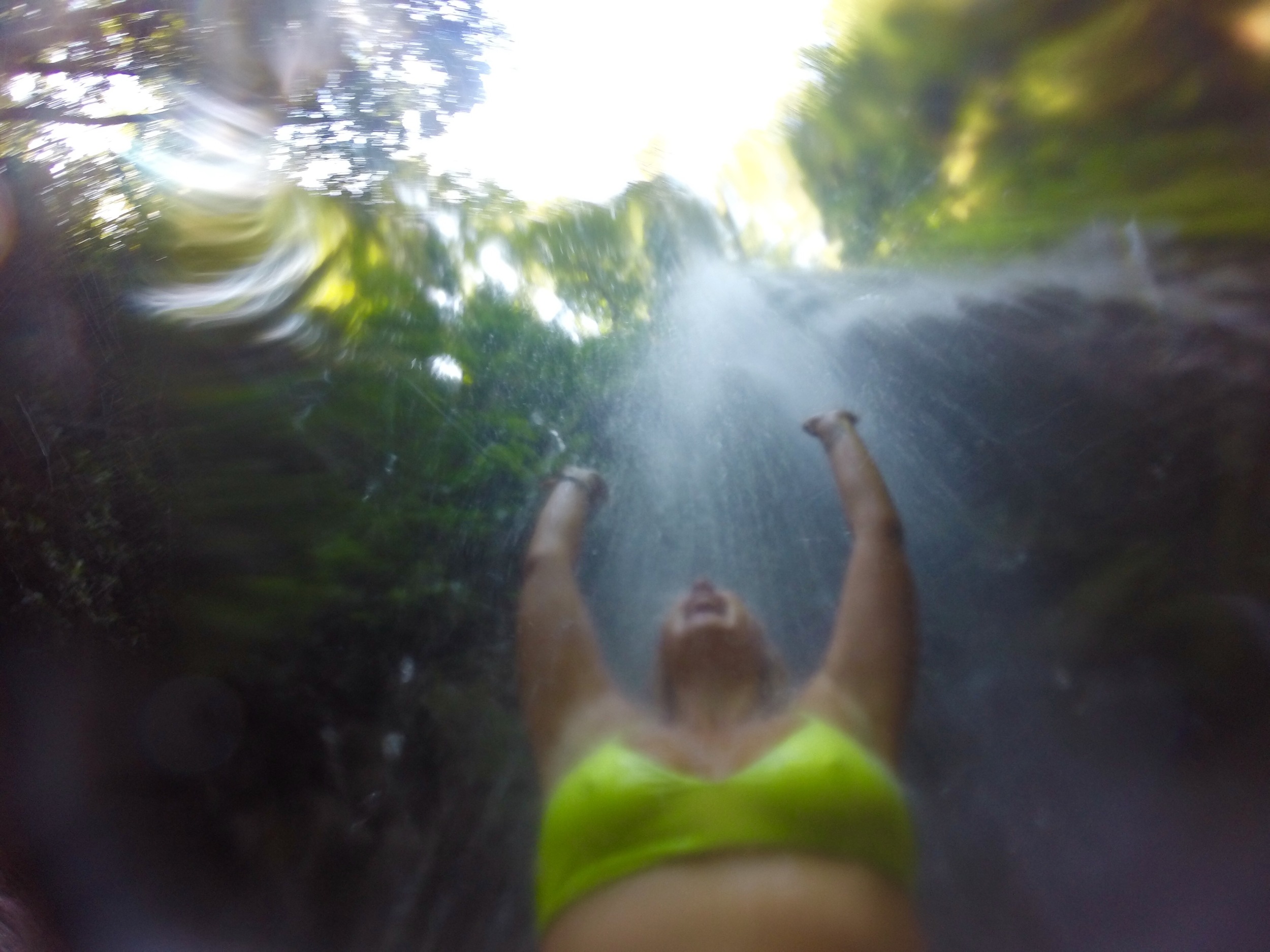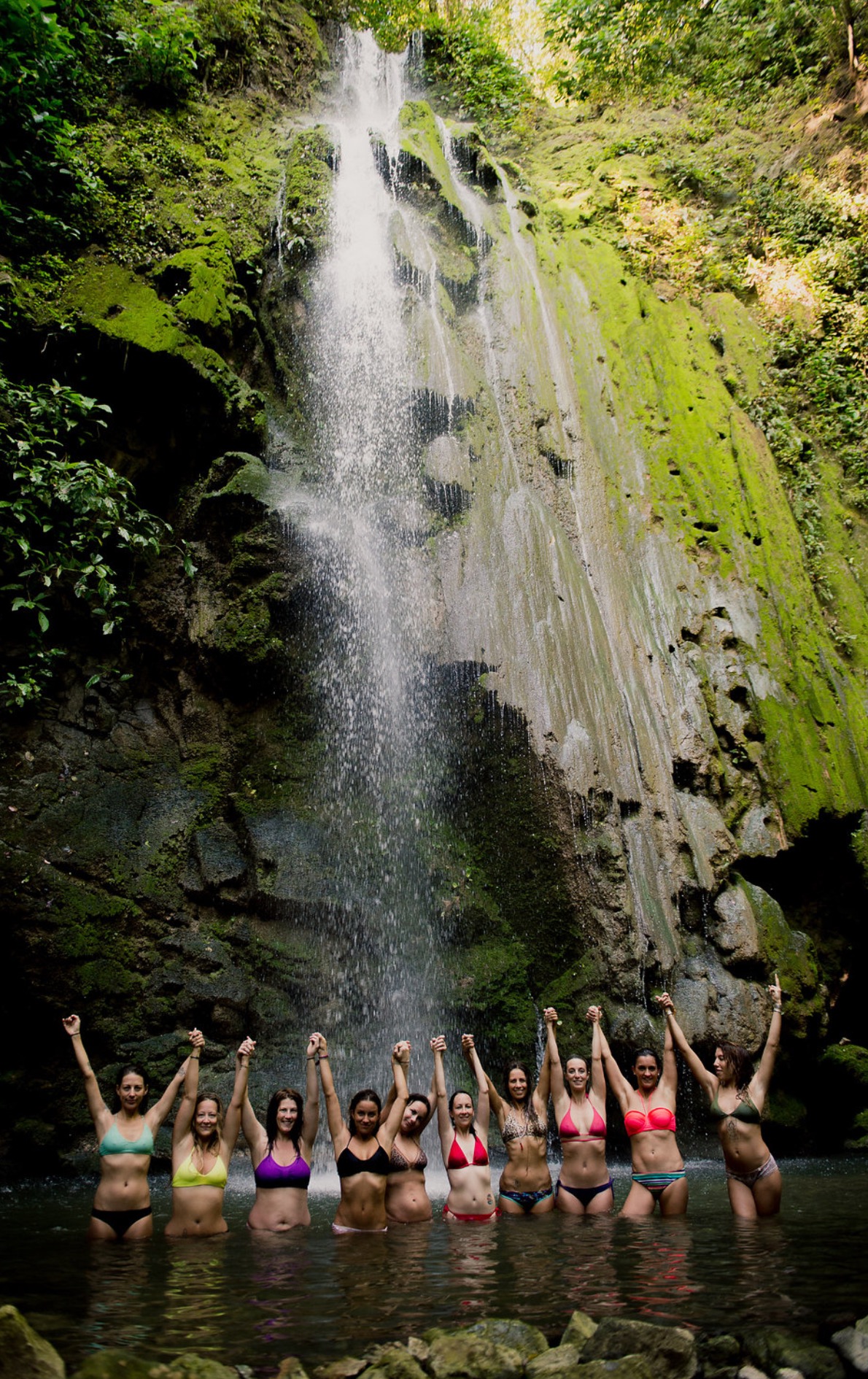 Stay tuned for the next and final Chasing Waterfalls post.