As I mentioned in previous blog entries, I'm about 2 weeks behind in my posts. Scratch that, I'm now a month behind. Hard to write when you're having fun - that seems to be a recurring theme. I've met up with Squamish friends in Playa Negra, Costa Rica for Christmas and New Years, so blogging will probably be pushed back a little bit more. In my last post, chasing WATERFALLS (part 3) I talked about Matapalo, this one will talk about Finca Mia, in the mountains, and then I still have to write about Manuel Antonio, CR and San Juan Del Sur, Nicaragua. Again, you'll need to read the previous posts in the Chasing Waterfalls series (part 1, part 2 and part 3) to bring you up to speed.
I'm writing this poolside from a sprawling Rancho on the beach in Playa Negra with the Scott family. Some days on the road are more glamorous than others. This is one of those more glamorous times.
On to the fourth and final segment of Chasing Waterfalls yoga/surf...
Five days or so into the Chasing Waterfalls trip I was feeling a bit burnt out. Partly because of all of the activity, but also from not knowing the group super well and having to be "on" for the week long period, without giving myself time to "recharge". I withdrew a bit from the group, whether they noticed or not. This is the second time in my life that I've been in a situation where I've noticed this behaviour. I'm sure there has been many other instances, but I have a much greater personal awareness now than I used to.
The first time I noticed this behaviour was on a week long retail tour of New York, Toronto and Montreal with the President and department heads from Arc'teryx, when I was working there a year ago. We ate breakfast, lunch and dinner together, we travelled in close quarters, we talked endlessly about business opportunities, we stayed up late socializing. Again, constantly "on". At the onset of both trips, I felt energized and excited. I had a lot to say. I felt confident. As the week went on, I felt exhausted and I had very little to say, my brain not functioning well enough to have any profound conversations, my confidence wavered. My battery was drained and I didn't take the time to recharge.
I came back from that New York retail trip feeling really shitty about myself. Here I had an opportunity to make an impression and an impact on the business, but I was so drained that I couldn't articulate my thoughts. I can't remember who I told about this, but someone recommended that I read Quiet: The Power of Introverts in a World That Can't Stop Talking. I did, over and over again. (Well actually I listened to it on audiobook.) I could personally relate to many of the instances in the book. It allowed me to better understand myself and my personality.
Here's the author, Susan Cain's, Ted talk on The power of introverts.
Various schools of psychology define introversion differently. Cain's definition is that introverts have a preference for a quiet, more minimally stimulating environment. Conversely, extroverts are energized by social situations and tend to be assertive multi-taskers who think out loud and on their feet. (Source: Wikipedia.com)
Most people that know me well would say that I'm an extrovert. And when I am comfortable and well acquainted with people or in a small group, I am. It is different being in a group where I know everyone well. In small groups or among friends, socializing doesn't drain me. In these more comfortable circumstances, I actually enjoy being an extrovert.
For the most part though, and especially in situations with large groups or strangers, I am introverted. This also explains why public speaking has always terrified me. I am also sensitive to other people's energy. I need time and space to mentally navigate a new environment or new people. I need to feel prepared. I find it hard to "jump" right in to most social environments. If I do, and I'm not ready, it can come off as being rude or abrupt or I stutter trying to get the words out.
Cain essentially adopts the "Free Trait Theory" of Dr. Brian Little, agreeing that introverts are capable of acting like extroverts for (core personal goals)—work they consider important, people they love, or anything they value highly — provided they also grant themselves restorative niches, which are places to go and time to be their real selves. (Source: Wikipedia.com) After spending the last week with the extended Scott family in Costa Rica with 5 kids under the age of 5, I see the benefit that napping and quiet time has on children and the points where their limits have been reached. Their brains need time to process the stimulation. Adults really aren't much different, especially those sensitive to stimuli, like me.
What I know about myself, which I forgot during the Chasing Waterfalls retreat, is that I too need quiet time alone to mentally navigate the environment and to recharge my batteries. The book outlines strategies for navigating as an introvert in an extroverted world. The problem that I encounter is that I also have really bad FOMO.
I've been reading a lot of articles from The Plaid Zebra lately. I bookmarked this one that talked about FOMO:
While I need time to recharge, if there is fun stuff happening, it's really hard to pull myself away. The lesson learned here is that I need to make a conscious effort to try. The other lesson is not to be so hard on myself.
FINCA MIA
One of the cool things about Megan's retreat, Chasing Waterfalls, is that she's utilized her friendships to provide the best experience possible, to both learn about Costa Rica and support local business. It contributed to the familial feel of the retreat. One of those businesses was Finca Mia. Finca meaning farm, and Mia being a combination of the names Michelle and Ian, it's owners. Unfortunately, we didn't get to meet Michelle and Ian, but we got the full story on Finca Mia, and how they had left their lives in North America and spent the last 10 years building their dream, complete with a skate ramp. A world away from their former lives as pro-snowboarders.
I stole this from their website...
Situated at the base of the Chirripo Mountain Reserve, Finca Mia is a rustic, cozy jungle retreat offering many amenities for travelers who are seeking an experience that goes beyond just being a visiting tourist. Shared meals in the kitchen long-house create an intimate, community feeling.
The clear, emerald waters of the Rio Talari fill the air with the sound of rushing water. Huge, mossy boulders dot the river. And along the river's banks, life grows abundant in this rugged, jungle atmosphere. Stepping stone paths criss-cross the forest, and as you stroll to your private abode, fragrant flowers scent your journey, and colorful birds dart about. The cabinas dotting the paths look like fairy palaces. Our hosts cultivate the organic gardens which provide some of the fruits and vegetables for the guests of Finca Mia. Meal are prepared fresh daily with local ingredients to cater to diverse tastes and diets of our guests.
Finca Mia is a place to go M.I.A. from your daily routines. Feel cradled in the arms of the Chirripo Mountain. Truly melt away as the Rio Talari flows through your soul, sweeping out the cobwebs. Breathe in the sweet Costa Rican air, bringing freshness and vitality.
It was colder than I expected up in the mountains and I was glad that I had decided to brave the weight of extra luggage and hold onto my long sleeved shirts and leggings, which also came in handy to ward off the bugs, kind of. My now-bronzed skin quickly became a patchy mess of red, itchy dots courtesy of noseums, mosquitoes and who-knows-what else. Bugs are very much a reality of Costa Rican life. I reminded myself that I made the decision to move to the tropics.
So breathe in the cold mountain Costa Rican air, we did. Since Finca Mia was our last stop in the retreat and we were all a bit tired, we spent a good amount of time chilling and taking in the scenery, but Megan still had some cool things planned for us.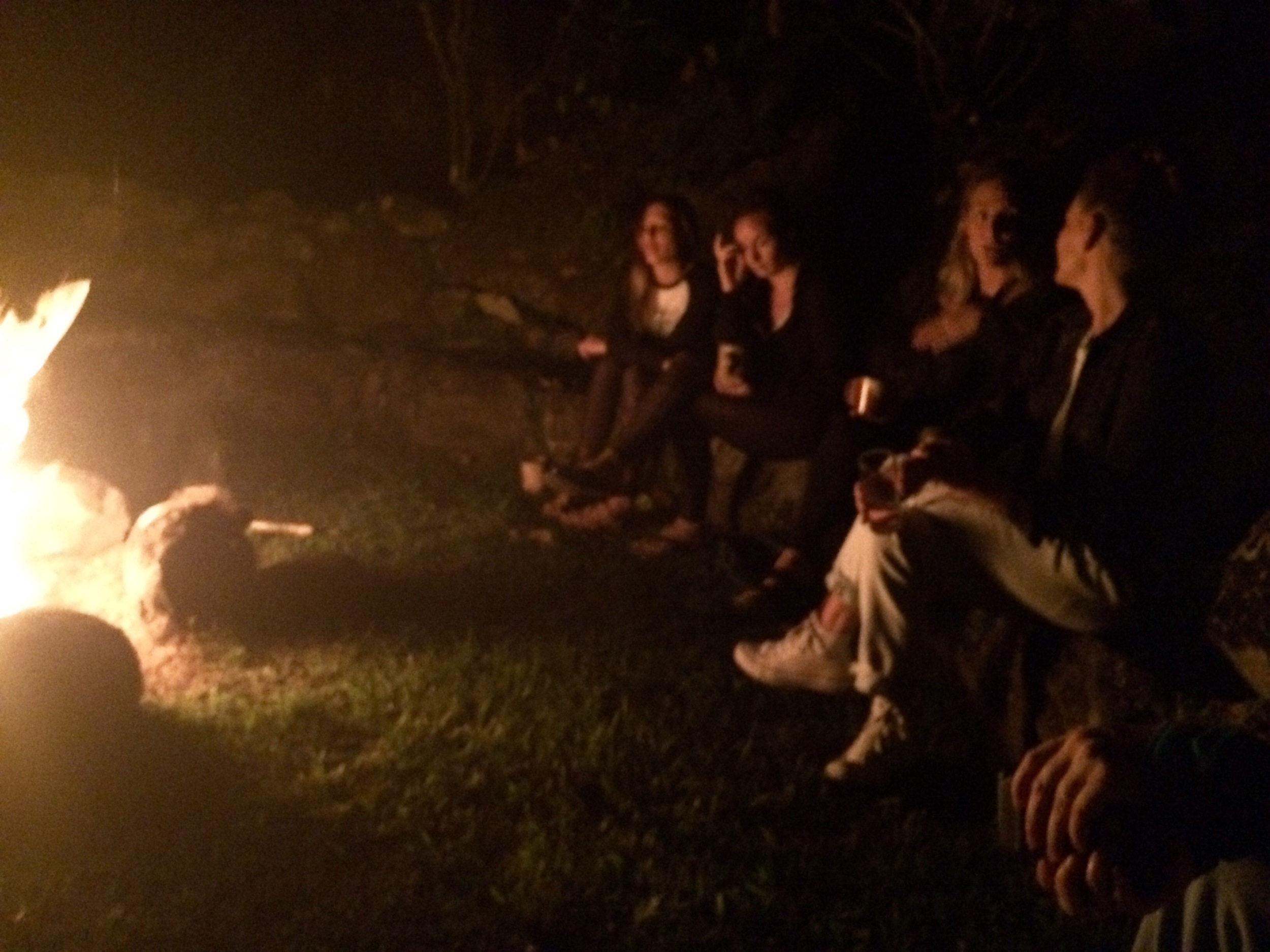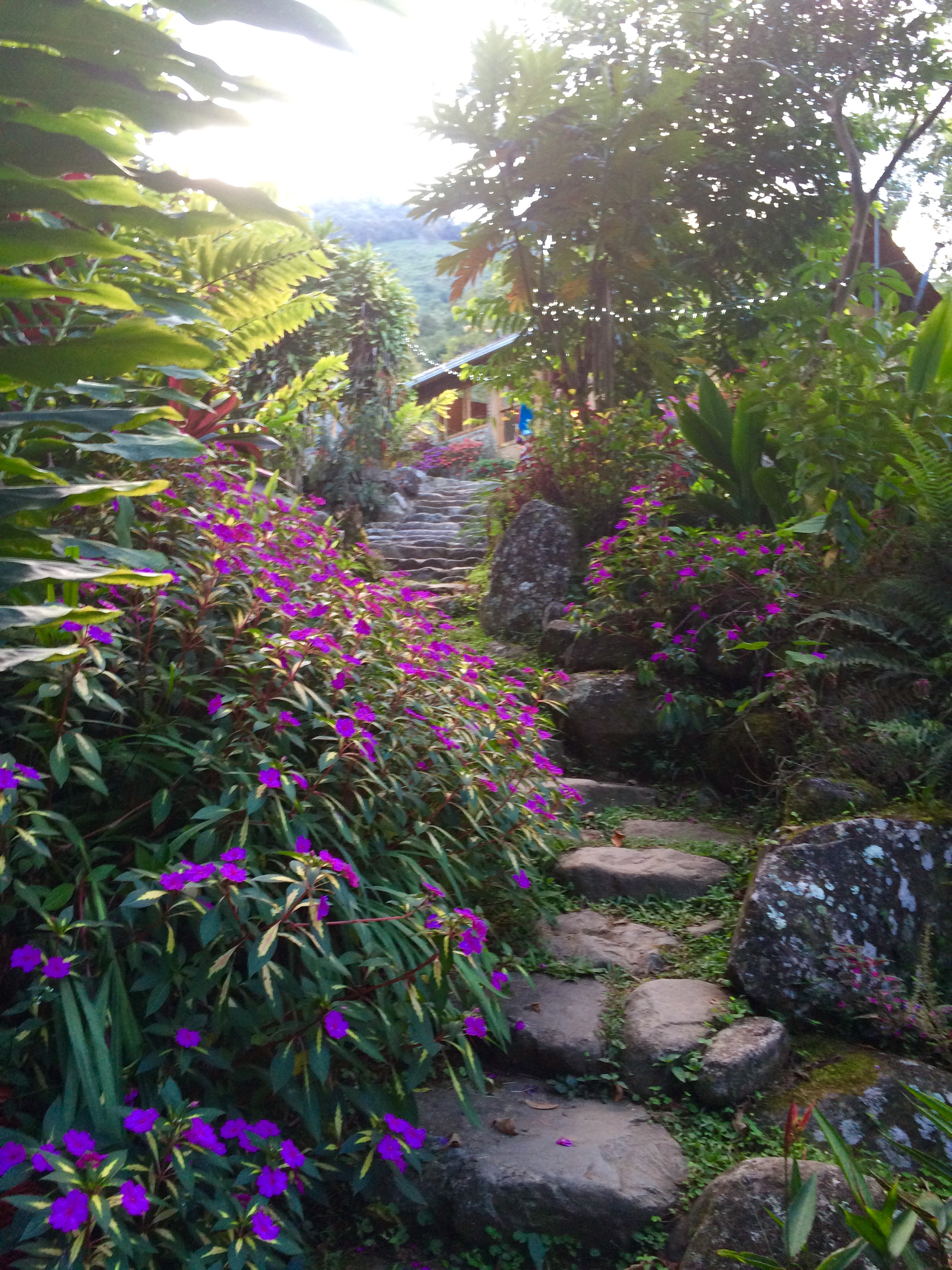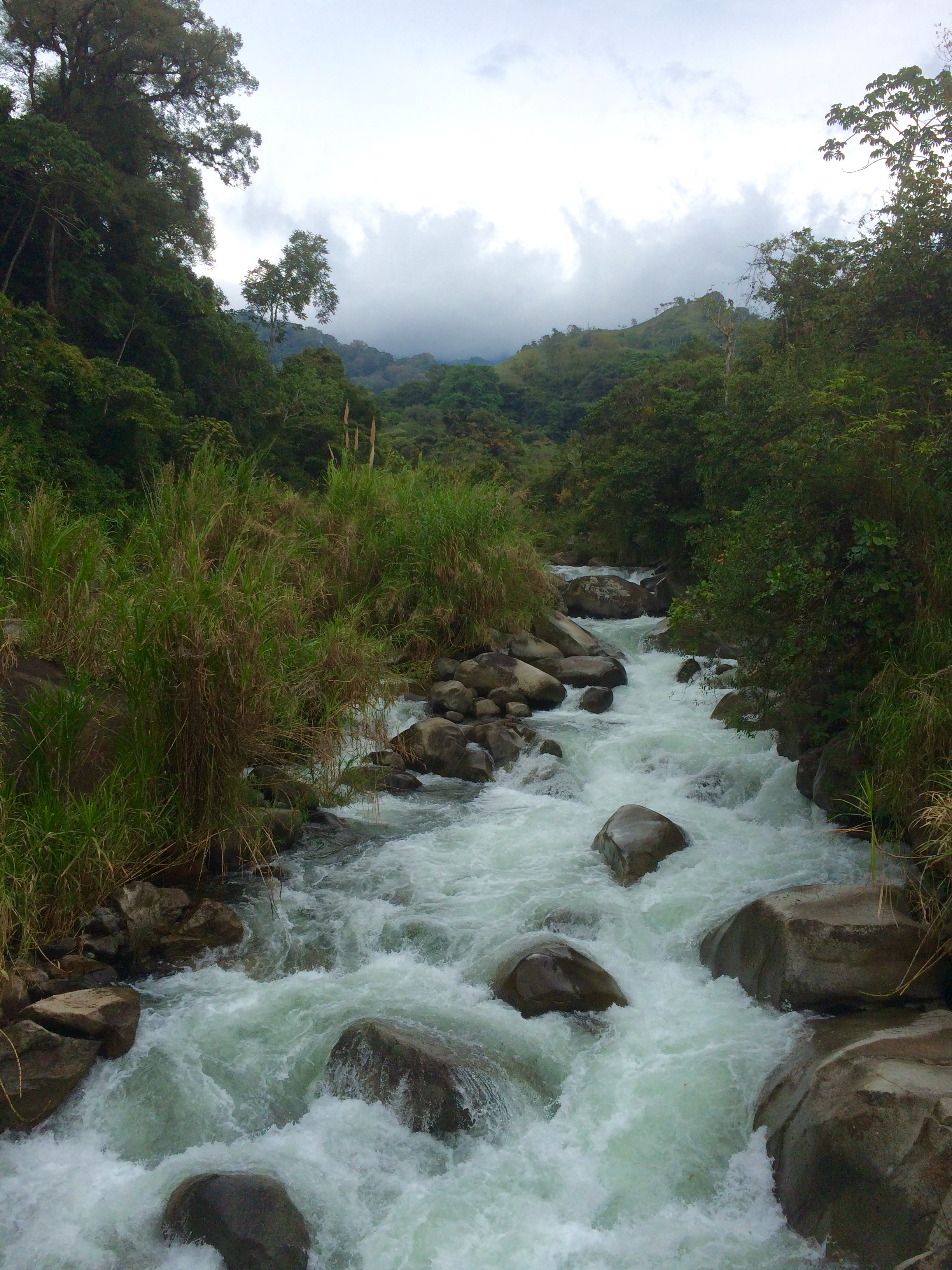 One of those things was a shamanic blessing and healing ceremony. I had never done anything like that before, so was looking forward to that part of the trip. Some of you are probably thinking that by healing ceremony, it was an ayahuasca ceremony, but it wasn't. This shaman was an indigenous Costa Rican man who travelled for 11 hours, on foot, from deep in the Costa Rican mountains. The healing tea we drank came from a bark also indigenous to Costa Rica. More on that in a minute.
I am not opposed to doing ayahuasca. If the right situation came about, I would be open to it. The ayahuasca discussion has come up so many times in the 6 weeks that I've been on this journey. Actually, Finca Mia holds many ayahuasca retreats at their facility. For those who don't know about Ayahuasca:
Ayahuasca (usually pronounced /ˌaɪjəˈwæskə/ or /ˌaɪjəˈwɑːskə/), also commonly called yagé (/jɑːˈheɪ/ or /jæˈheɪ/), is an entheogenic brew made out of Banisteriopsis caapi vine, often in combination with various other plants. The brew is used as a traditional spiritual medicine in ceremonies among the Indigenous peoples of Amazonian Peru, many of whom say that they received the instructions in its use directly from the plants and plant spirits themselves. People who have consumed ayahuasca report having spiritual revelations regarding their purpose on earth, the true nature of the universe as well as deep insight into how to be the best person they possibly can. (Source: Wikipedia)
I had looked into it about 3 years ago, when I felt like I needed something that would "fix" me. I knew I work to do on myself, and I had it in my head that by doing ayahuasca, that process would be fast forwarded, a "quick fix". Who knows. In the end I didn't end up doing it and instead went through the slow, excruciating, and at times, dark, journey of healing on my own path. I'm only writing this today, because I came out on the other side. Read more about that in one my earlier posts here.
Back to the healing ceremony. Our healer, Juan, hiked overnight for 11 hours with his assistant, his pre-teen daughter. As you would imagine of most pre-teenage girls, she spent a good amount of time on her phone, twirling her hair and staring off into space. She seemed a bit bored. Teenagers! They are the same all over the world, especially now in a world where technology is at our finger tips...even in the deep, dark jungle.
We all started off in a circle. We took turns asking him questions about his people and his ritual, which he answered through his translator, Deanna. The foundation of all being Mother Earth. The underworld carrying equal weight. He carried a small pouch close to his body, that carried "bad things" that we weren't allowed to see. He chanted. We all danced a bit. Then we sat cross-legged while he went around and blessed each of us with a chant and brushed leaves across our bodies. Then we each took turns drinking a cup of tea, as it was offered to us by his daughter. It was a rusty-orange tasteless concoction, made from an indigenous tree bark that had been boiled down. As each of us finished drinking, we laid down on our mats to let the tea take affect. For some of us, the tea would have no affect, or the affects would be super subtle, even into the next day. He warned us though, if we had something wrong internally that needed to be healed, we would feel more of an affect and it may materialize in different ways throughout the body: indigestion, fever, sweat, etc. I felt a bit of a buzz throughout my body and a rumble in my tummy the next few days, which didn't surprise me, but that was about it. He offered up the bark and another healing tea for purchase after the ceremony. I bought both, thinking that it didn't hurt to have an indigenous antidote in my arsenal, especially against parasites and other stuff down here. However, I should have found out exactly what it was, as it led to a funny, slightly terrifying, story later on in Nicaragua when I gave it to a girl. I'll share that story when I talk about Maderas Village.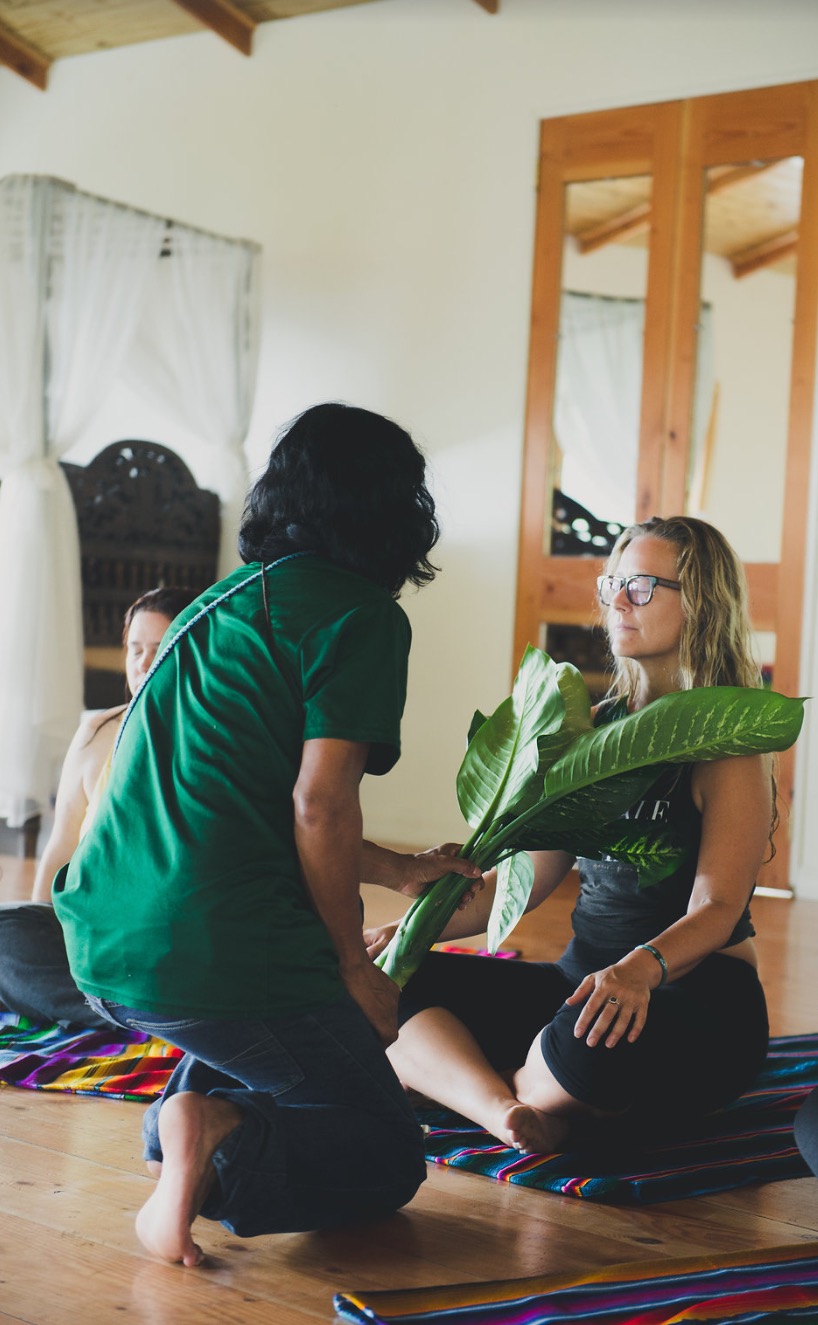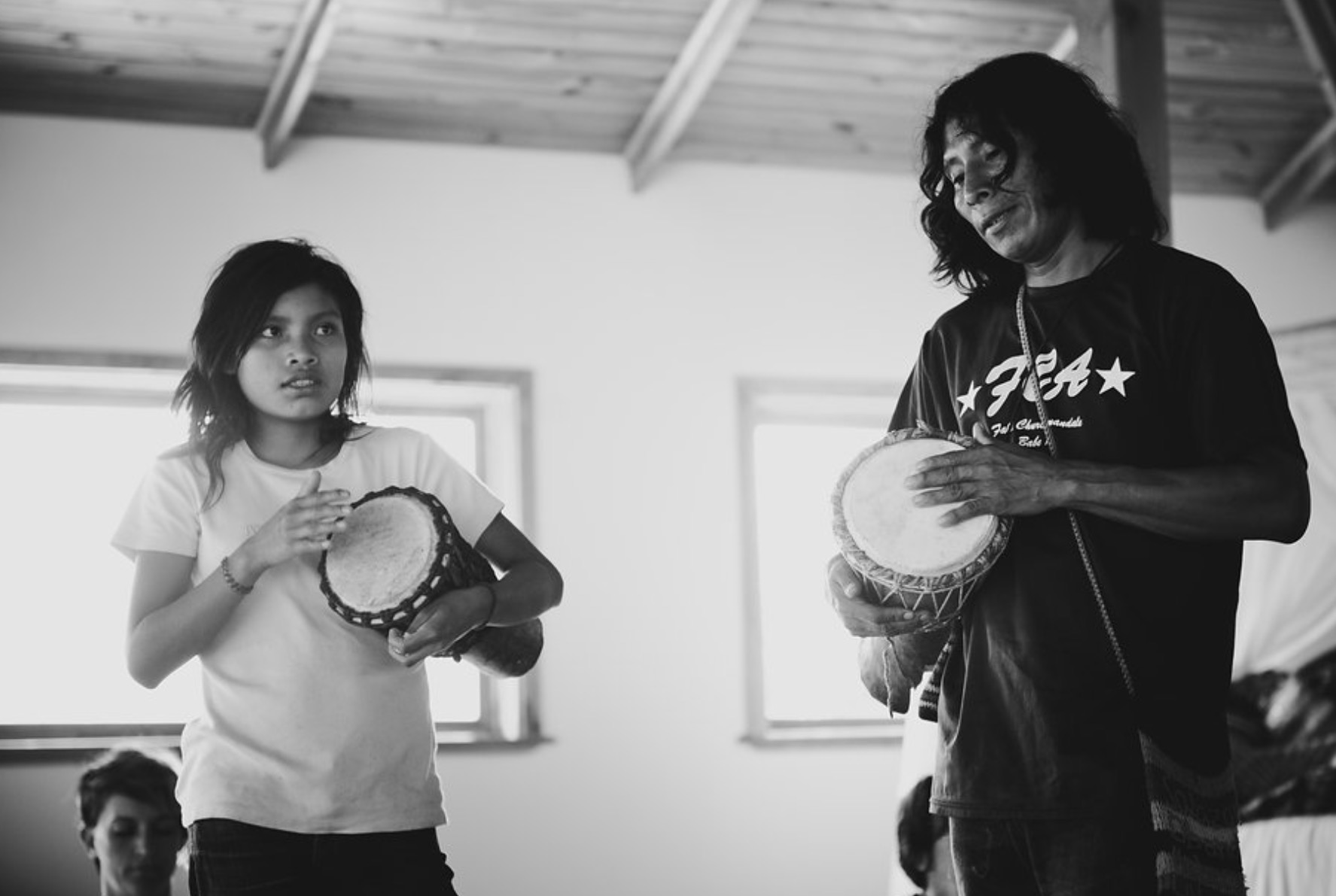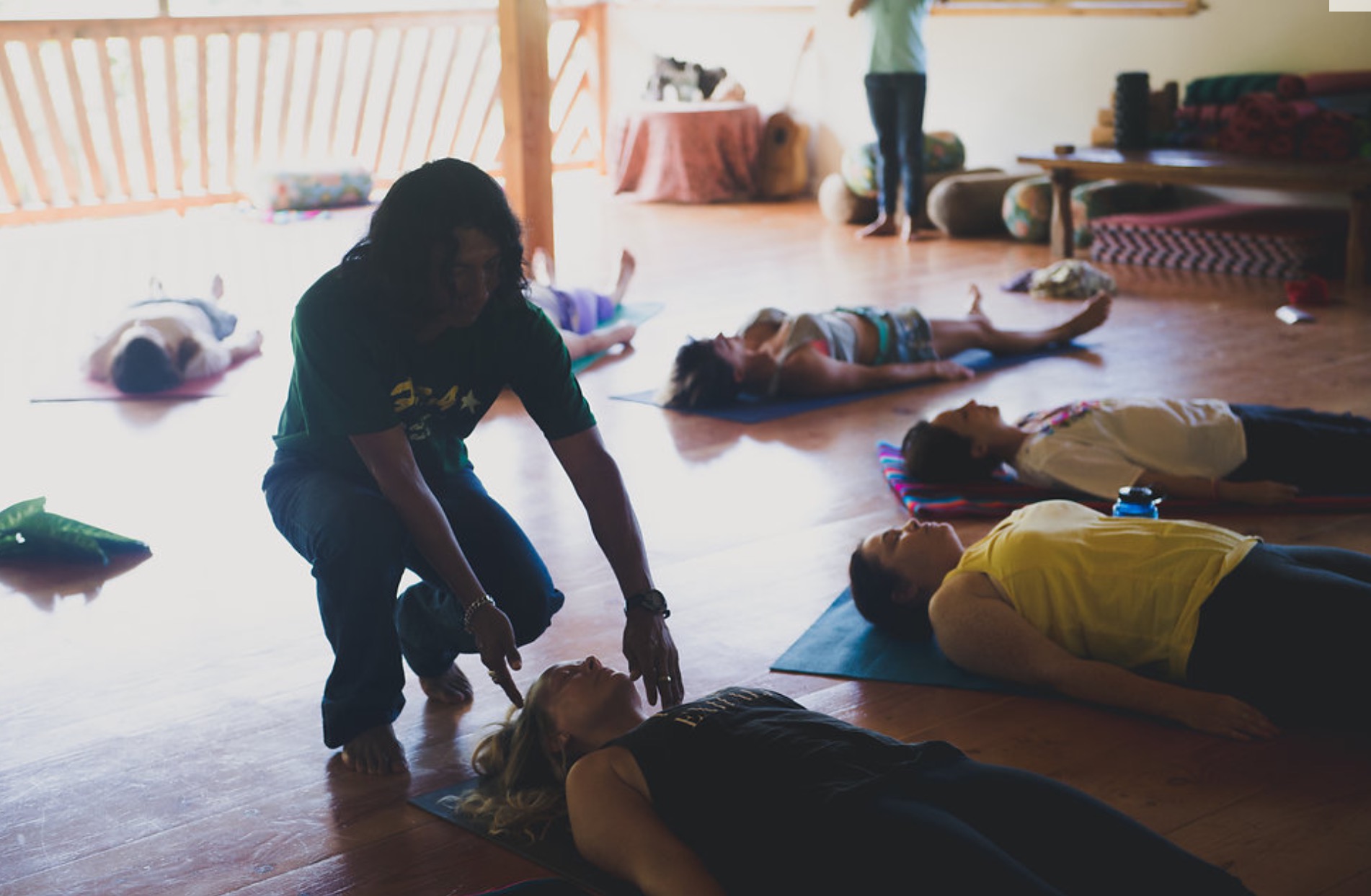 Once the group ceremony was over, we were invited to do an individual blessing with Juan and, c'mon, I'm not really one to pass that up. Turned out to be much of the same, chanting, brushing of leaves, the energy of Mother Earth sweeping over my body, the bad stuff being ushered away. It was cool. I'm glad I had the opportunity to experience it.
After our individual ceremonies we all gathered down by the river. A collection of giant boulders lined the sides and seemed to cradle the swirling pools of cool water before it cascaded down river. Here we took turns standing exposed, half naked, naked, while Deanna painted our bodies with an indigenous healing mud. It was a beautiful moment to see all of us now comfortable enough with one another to strip down, sitting cloaked in mud, our feminine naked bodies spilling out across the rocks as we dried our body masks in the sun.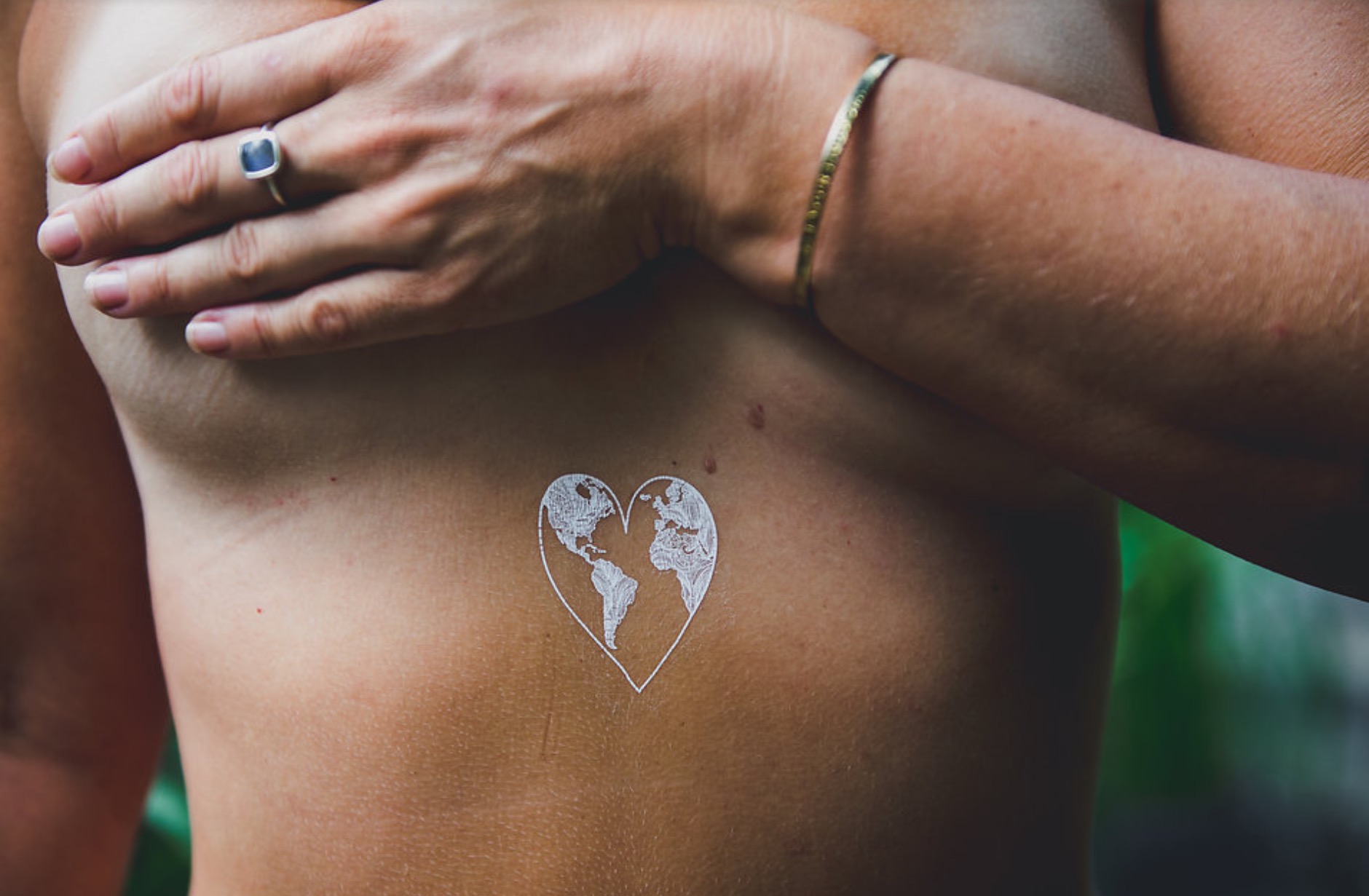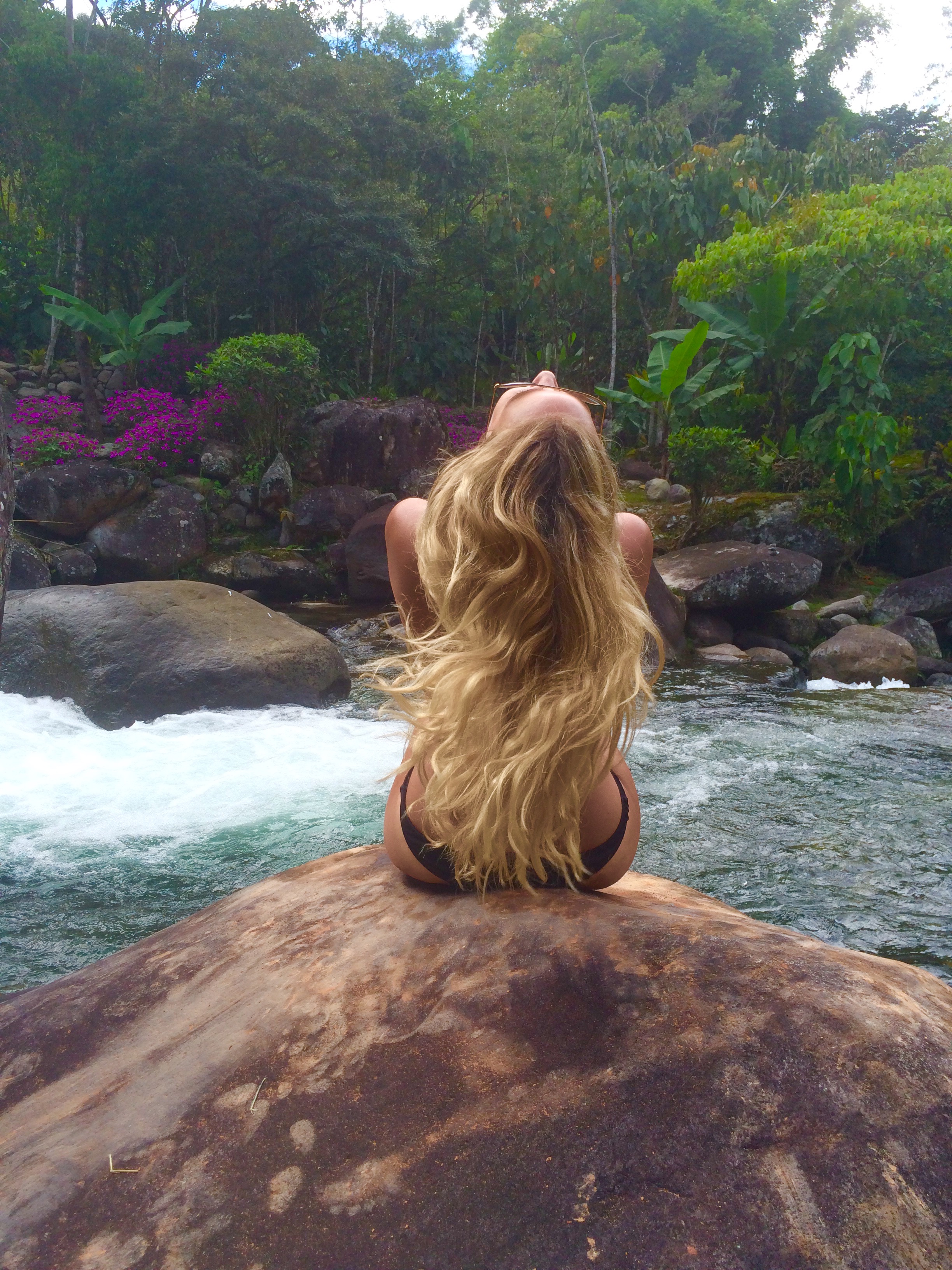 Once we rinsed off the mud, we followed up with a coconut oil/coffee scrub and then a soothing Aloe Vera rinse.
Looking back on it today, almost a month later, I can't remember if we finished up that epic day with a belly dancing lesson, or if that happened the next day. Regardless, it was a killer workout, super fun, and really put me in touch with my femininity. A great topper to our retreat experience. I felt sexy, but I can't say that I looked sexy. Let's just say that I'd need a lot of practice before I choose to make belly dancing my boudoir dance. A LOT. Ha!
We had different departure times through the night to the next morning, so when we went to sleep, we said our goodbyes. It was definitely sad saying goodbye at Finca Mia. I feel bittersweet about goodbyes these days, because I feel like I'll be seeing people again. Since I have plans to open a hotel, I feel like people will come visit. I hope so, anyways.
Lizanne, Isa, Sarah and I headed to Dominical. They had one more day before they had to head back to Squamish and wanted to spend it at the beach. I was happy to have the company going back to Dominical and to get to know Lizanne and Sarah better, and it was special to have a little more time with Isa. Isa, now affectionately named Princess Chicken after a hilarious night drinking cervezas with new international friends outside the Mini-Super.
I spent another week in Dominical getting a feel for the area and then I felt like it was time to move on. See my previous post for more information on Dominical. See my next post for Manuel Antonio and Nicaragua.
To sum up the Chasing Waterfalls surf/yoga experience, I'm really glad I was able to make it happen. A huge thank you to Megan for holding the space for us to have these experiences, being a source of inspiration and guiding us along the way. For more information on Megan's retreats, contact her at Megsporcheron@gmail.com.
It allowed me to experience a side of Costa Rica that I hadn't seen before, important as I gather research to decide where to settle here.
It allowed me to reflect on my life and continue to learn things about myself.
It allowed me to tell my story to inspire others.
It gave me the love and power of a strong group of women to help me set intentions, send my requests out into the Universe and to manifest what I want in life. And it allowed me to be the same vessel and love for you: Anne, Sarah, Lizanne, Michelle, Anne, Steph, Amber, Becky, Isa and Megan.
I'm reflecting back on these experiences today as I step into a new year, a year of change for me that will bring new people and new learnings.
My advice is to use these final hours of 2015 or the early hours of 2016, to reflect and recharge, whatever that means for you. Be it quiet time alone, sitting in a car, on a plane, in a hammock, on a beach, on your yoga mat, around the dinner table or even sipping fancy cocktails in the corner of a swanky bar, set intentions vs resolutions. You seriously get back from the Universe what you give, so make sure you focus on the good stuff. Make love a priority in your New Year's intentions, especially with yourself, and I promise you will see it come back to you.
This New Year, may the only baggage you carry into 2016 be love (and maybe some sunscreen).