I started to write this post in a small plane, known as a puddle jumper, from Bocas Del Toro, Panama on route to Puerto Jimenez, Costa Rica. My Nature Air pilot, as usual, looks like a 17 year old boy. Big news! I'll be hunkering down in Costa Rica for awhile. A bit of a sudden decision, but I got an offer to manage at Encanta La Vida, the Eco-lodge in Matapalo that I stayed at in December with Megan's Chasing Waterfalls Yoga Surf. I decided to go for it. Pretty good gig: a room, all meals prepared fresh daily by the Lodge Chef, free yoga, use of surfboards, steps from the beach, swimming pool, jungle living and a small stipend. There's still places in Panama and Nicaragua that I want to visit, but for now I'm going to use this time to write, work on my Spanish, overcome my fear of the surf and learn more about running a little Eco-lodge. This one is all inclusive, providing guests with 3 freshly prepared meals per day, and can accommodate, at full capacity, almost forty people spread out in 6 buildings. The property extends down to the shore overlooking Pan Dulce. I can't think of a better place to learn. I'll post more on Encanta La Vida as I start to settle in. Ps I'd love visitors!
When I left off last I had talked about my time in Manuel Antonio and I was headed up to Nicaragua. Marco dropped me off at the bus station in Liberia and I boarded a bus to Penas Blancas, the Costa Rican border town, gateway to Frontera, Nicaragua. I talked about "holding space for the stuff that gives you goosebumps" in my last post and the growth that comes with stepping out of your comfort zone. My border adventure was one of those times. I had a driver waiting on the Nicaraguan side of the border, but I had to navigate getting from one side to the other, and that was the hard part. Had my Spanish been better, it would have been a much smoother experience. As you approach the border, about 5 kilometres out starts the line of trucks. And as you get closer, there are trucks and cars both stopped and moving going in both directions in the same lane. If that sounds confusing, it was. Hard to tell who was going in and who was going out. There is probably some order to it, but I had a hard time distinguishing what that was. To navigate the path to the Costa Rican exit building, the bus had to go off the road and reverse to make room for vehicles coming the opposite direction. It was mayhem. As I stepped off the bus, I was bombarded with requests and people telling me I needed this and that. Luckily, I'd read up on the border experience on a blog called My Tan feet, so was prepared for this and could confidently just say no and keep walking. The blog had step by step in pictures, which was helpful, but because I arrived at night none of those pictures mattered after I exited Costa Rica. Stepping into Nicaragua was discombobulating. It was a bit of maze to get from building to building, each attendant shouting instructions in Spanish and motioning in a different direction. It involved going to a bunch of different buildings, picking up a slip of paper here and dropping it there and then paying a bit of money here and a bit of money there, never really sure where to go next. I broke down and let a Nicaraguan guy help me out with where to go. I tipped him a buck. I let out a laugh when I got to the tent where I had to state the country I was from, which they ticked off with a tally mark beside 'Canada' handwritten on a crinkled sheet of blank paper. I got to the last building, or what I thought was the last, and my phone started to die. I couldn't see the driver and was starting to get nervous, as it was also getting late. I hadn't read the instructions properly on where to meet my driver and I was waiting in the wrong spot. I thought I had exited customs and I was actually still inside. The man I'd tipped earlier saw me standing there looking bewildered and ushered me to the exit. I tipped him another buck. Money well spent. Sometimes you just have to trust people. I found my driver outside the gates waiting for me where the guys at Maderas said he'd be, holding a sign with my name on it. Aaaaah. Now I could relax. My blog would be really boring if I didn't have any stories to tell about trying times. Ha!
Originally I wasn't going to come to Nicaragua. I'd heard firsthand horror stories from friends of being robbed at gunpoint, knife point, and in one case, almost raped. Needless to say, it was enough to turn me away. But... all those first hand accounts were 5 years ago. After talking to more and more people on this trip, I was convinced to give it a try. Staying at Maderas Village allowed the plan come together. The stories that I'd heard previously all involved getting in taxis and then the driver stopping on route to pick up other people, who then got in and robbed you. I think the key is to be smart and safe, use reliable forms of transportation, and be careful when alone. Nicaragua is actually the second safest Central American country, behind Costa Rica. You still have to make smart decisions travelling in Costa Rica, and Nicaragua is no different. Generally, wages are low here and there is a lot of poverty. The crime tends to happen in the tourist areas. The third time that I had heard about Maderas Village was from Marco.
The first time I heard about Maderas was when I told a work colleague, Sean Smillie, about my plan to quit my Canadian life and open a little surf lodge in Central America. He pulled it up their account on Instagram and instantly I was in love. The second mention was from Nicky, a lovely girl I met in Santa Teresa. Maderas Village has a resident photographer, Nikki Brand, that ensure their photos are simple, beautiful and tell a story. Their insta game and overall branding is totally on point. They do a really good job of portraying a state of cool that you yearn to be a part of. C'mon, they have their own playlist on Pandora, not to mention an onsite recording studio. In meeting Maderas Village, I had met my muse. There are so many elements of the brand and community that they've created that I want for my own place. They being Dickie, a Toronto native, and Dave, a New Yorker. Dickie wasn't at Maderas when I got there, but I had instructions from both Nicky and Marco, to say hi to him for them. Dickie arrived the day before I left, so I got to pass on the message. I had a lot of questions I wanted to ask him about starting Maderas, but didn't get the opportunity to. Next time. I only got to see Dave in passing. They also have a furniture business called Maderas collective that Dave runs out of Managua.
Part of what made my experience at Maderas Village so great, was the people that flock to it. I met some really great folk, both that stayed there and lived there. I looked forward to sitting down to family-style dinners at the long table and engaging in hours of discussion. For whatever reason, I took on a healer role there. It made me wonder if that should be my path. Here I was dressing wounds, doling out painkillers, counselling, advising on physical therapy plans, and then playing shaman. Haha. Here comes that funny story I've been waiting to tell you about...
One of the girls staying there, Az, a sweet young thing from Montreal, wasn't feeling well. We didn't see her at dinner, because she'd spent it in her room throwing up. Probably some sort of food poisoning. I remembered I had that Shamanic tea I'd bought after the healing ceremony at Finca Mia. It was supposed to be a cure-all elixir. I brewed some up for the two of us, adding agave and ginger and we drank it down before bed, retreating to our separate rooms. I had a room with two beds, so I told her if she was still not feeling well and needed help that she could knock on my door. In the middle of the night, I got a knock on my door. The good news was she hadn't thrown up again since she drank the tea. The "oh, fuck" news was that her heart was racing and she couldn't feel her hands and feet. I remembered that the Shaman had told us that if you had some sort of sickness, you would feel the medicine working its way through your body. I hadn't felt a thing when I'd drank it. She was a bit panicky, so I got her to lay down on the bed, turned out the lights and talked her through some breathing exercises. As I lay on my bed in the dark, exaggerating my inhales and exhales, I googled her symptoms with "shamanic tea". However, I had absolutely no idea what the shamanic tea/medicine was called. I alternated the inhale/exhale with questions every time I came across something new on Google that could fit the bill: "Do you have a rash?"', inhale, "Did you get bitten by anything?", exhale, "Do you have a fever?" She answered "no" to most of these questions, sometimes she'd scream out, "no, why?!" This went on for a bit until she fell asleep. Not totally comforting, as I was not entirely assured that she was going to be okay. She stopped vomiting after she drank tea, and spent the rest of the next day in bed. With sleep, she started to feel better. Phew. I didn't poison her. That would have been awkward. We laughed about it after.
Maderas village sits on the hill above Playa Maderas. A short goat trail gets you down to a beautiful beach (yep another one!) with a renowned break. At sunset the beach comes alive with surfers getting their last waves and others savouring the last minutes of the day and the sherbet-coloured skies that follow.
Playa Maderas is about 20 minutes drive from the fishing village of San Juan Del Sur. I took a couple day trips to SJDS, riding in the back of a pick up truck to town. Not the safest, I know, but man, it's fun. Open air, hair blowing in every direction, dust kicking up under the tires, smiles from ear to ear, topped off with can of Tona, a common Nicarguan cerveza, in hand. I love, love, love this series of photos of my new friend Lauren (below) because you can see see her infectious, totally animated Italian personality shine through.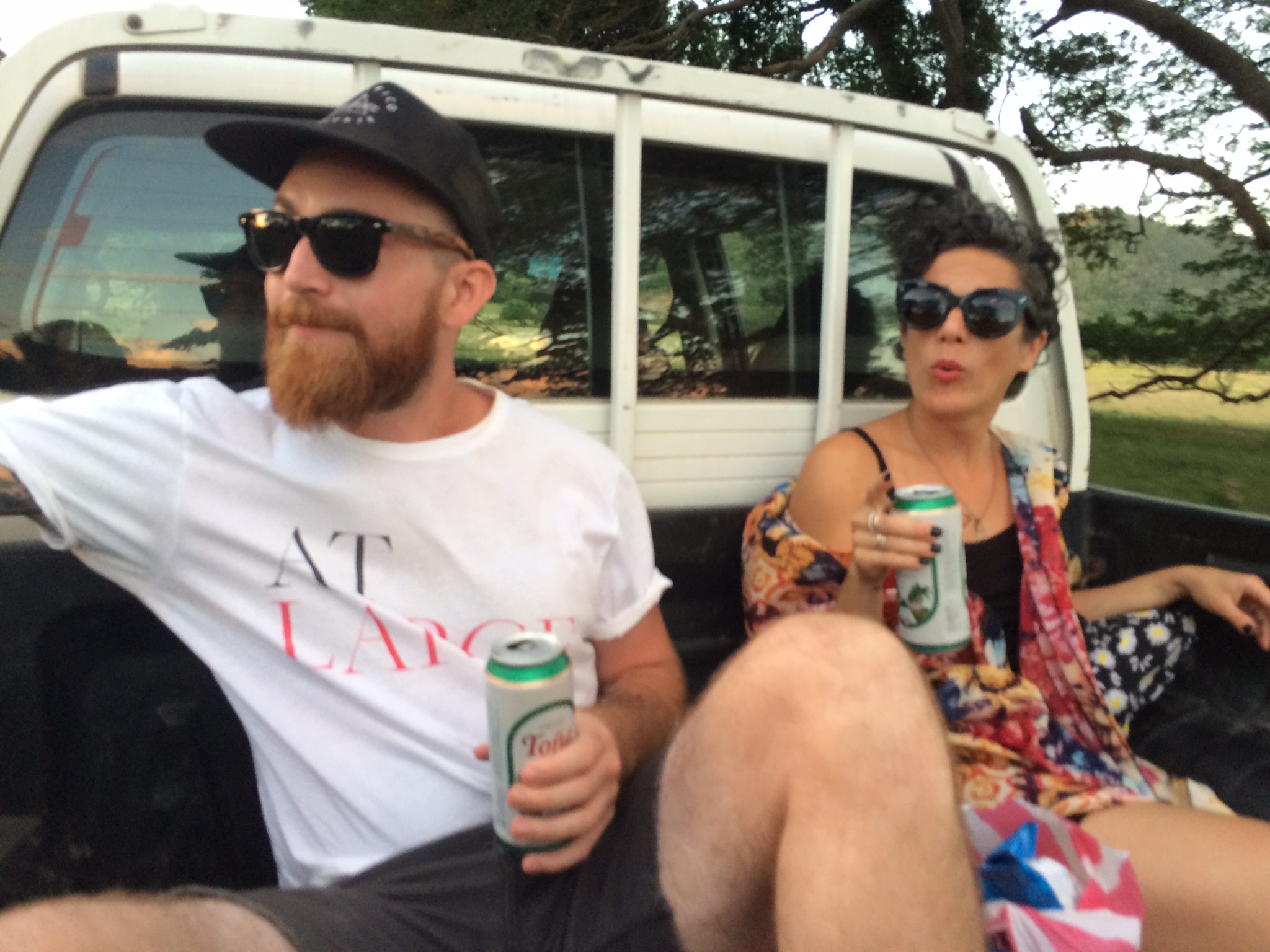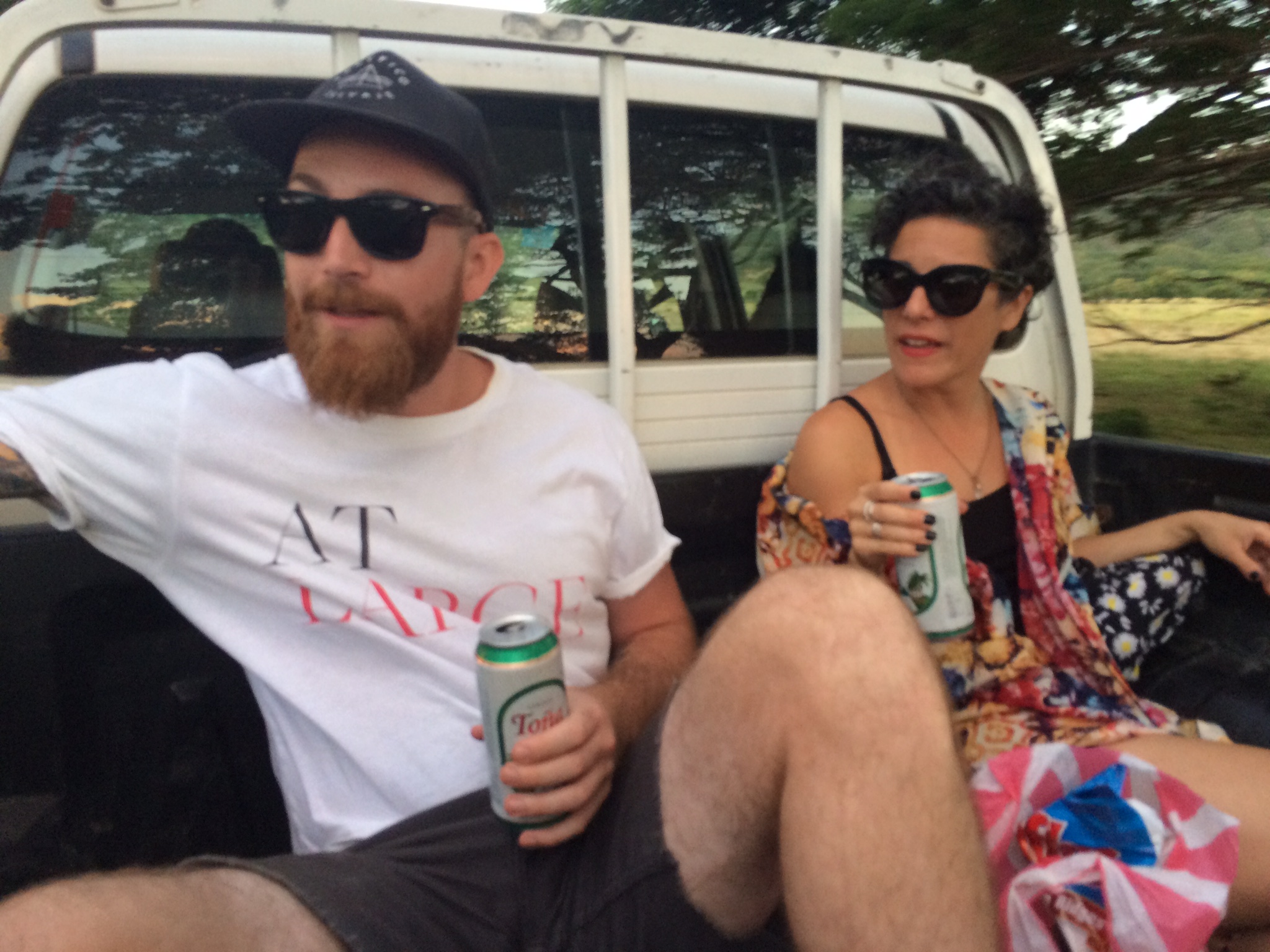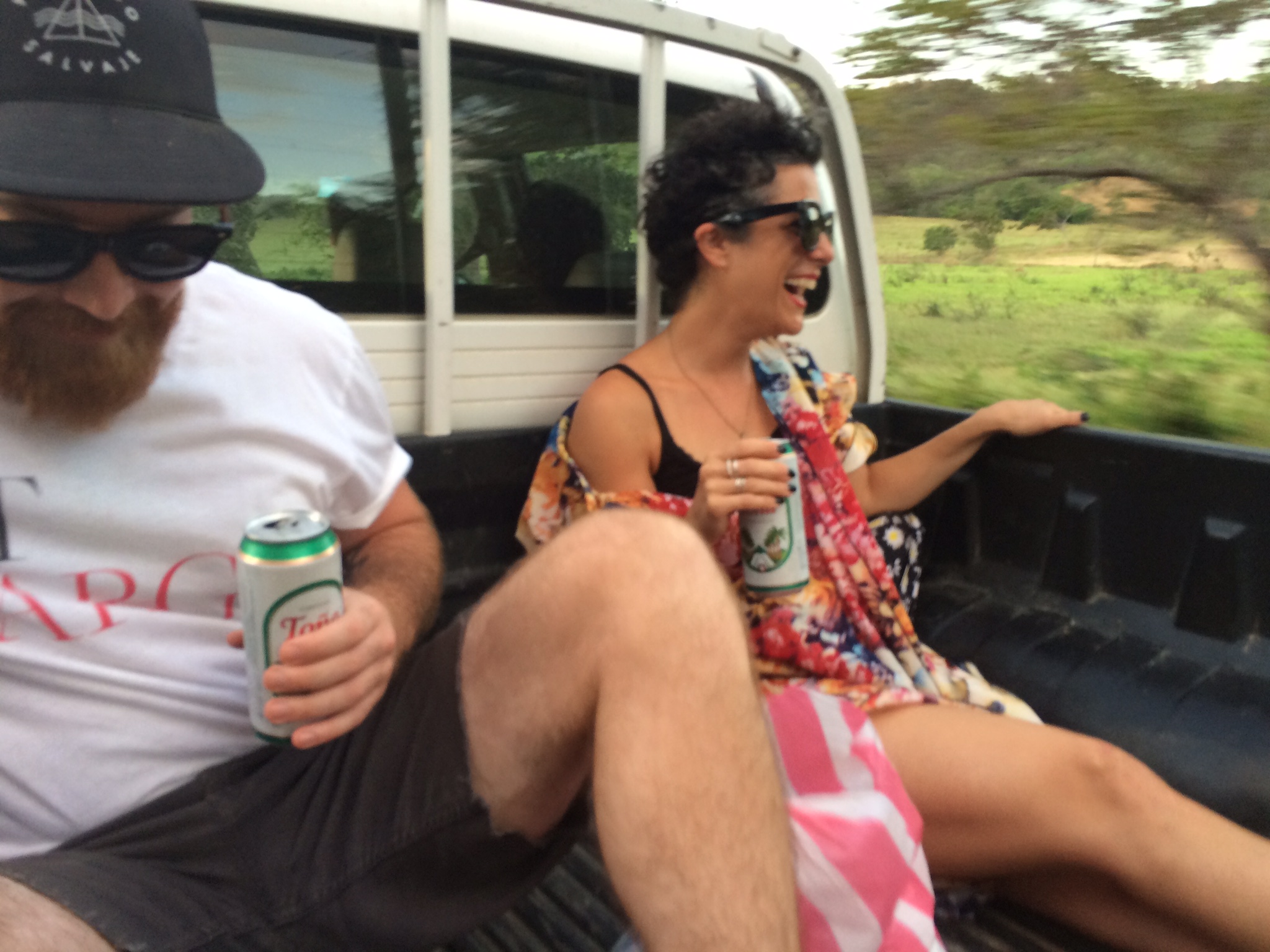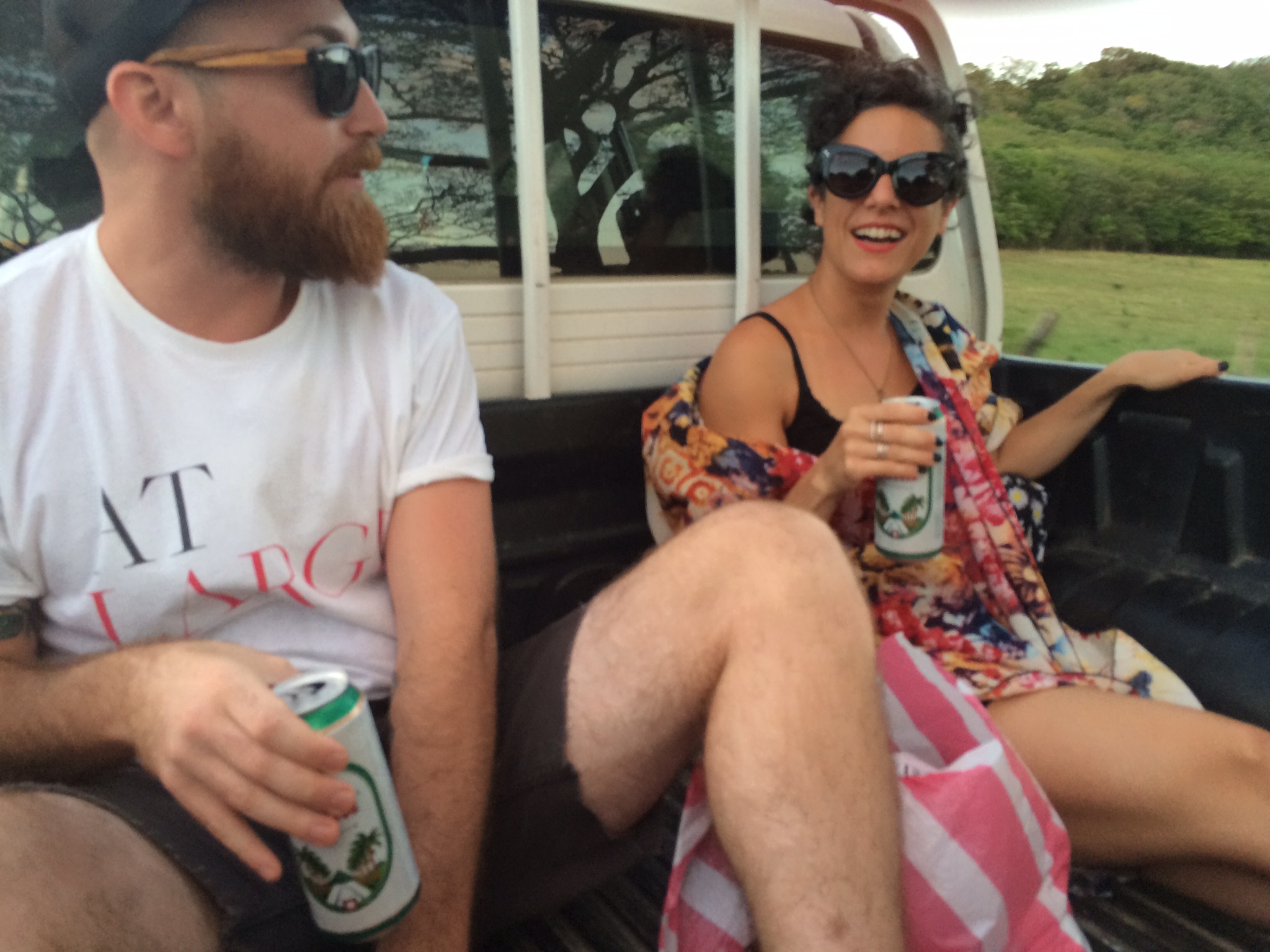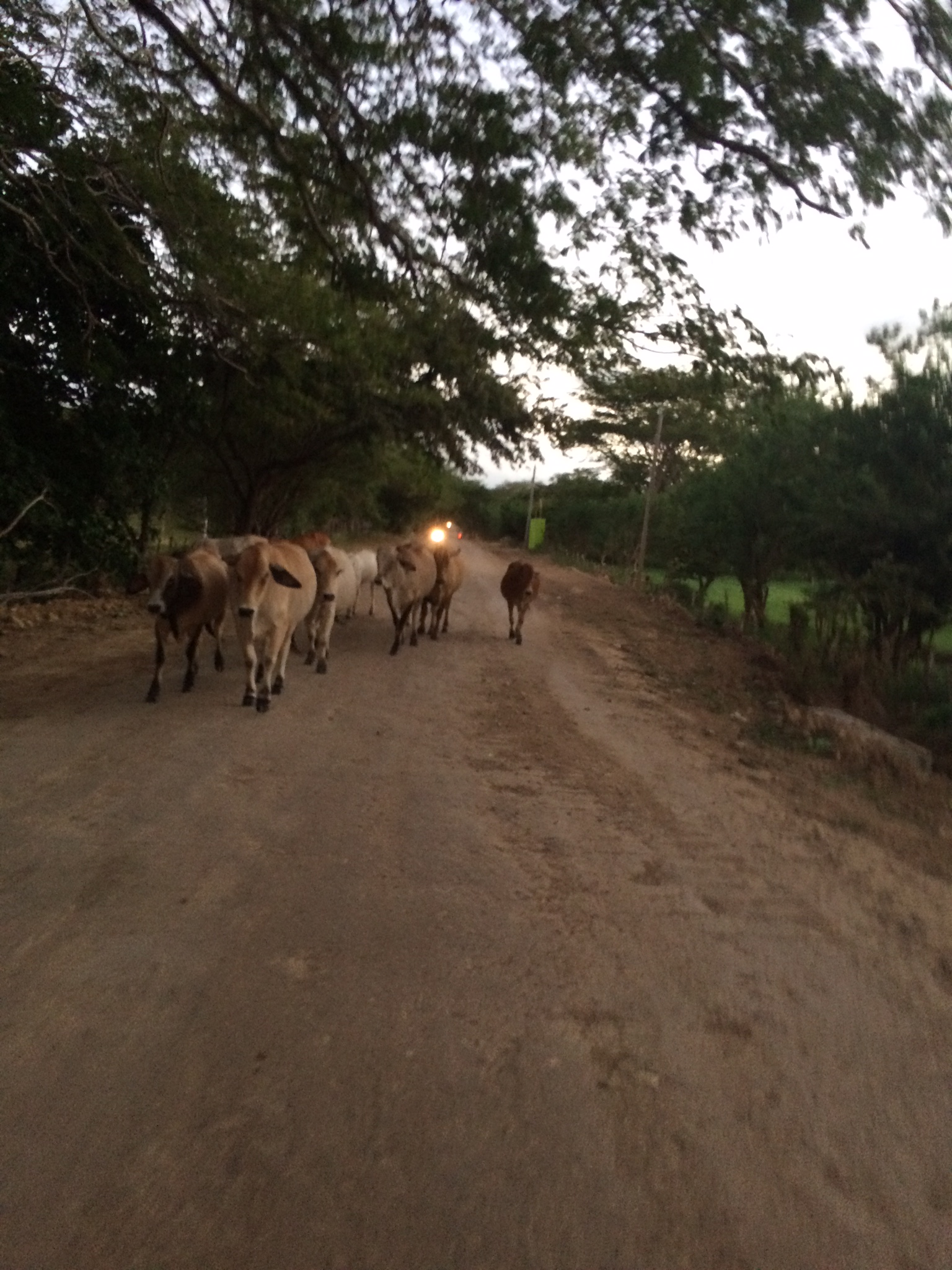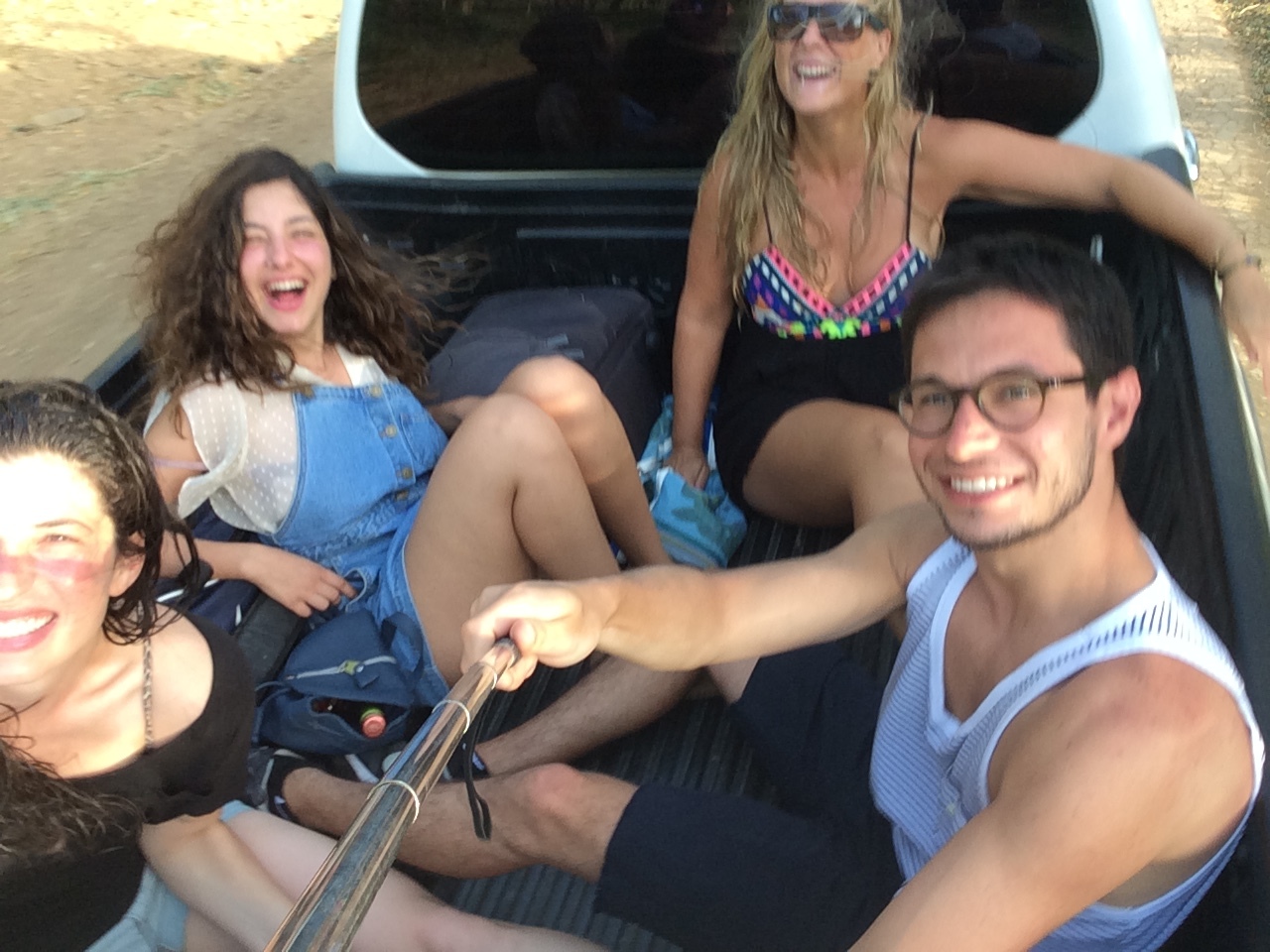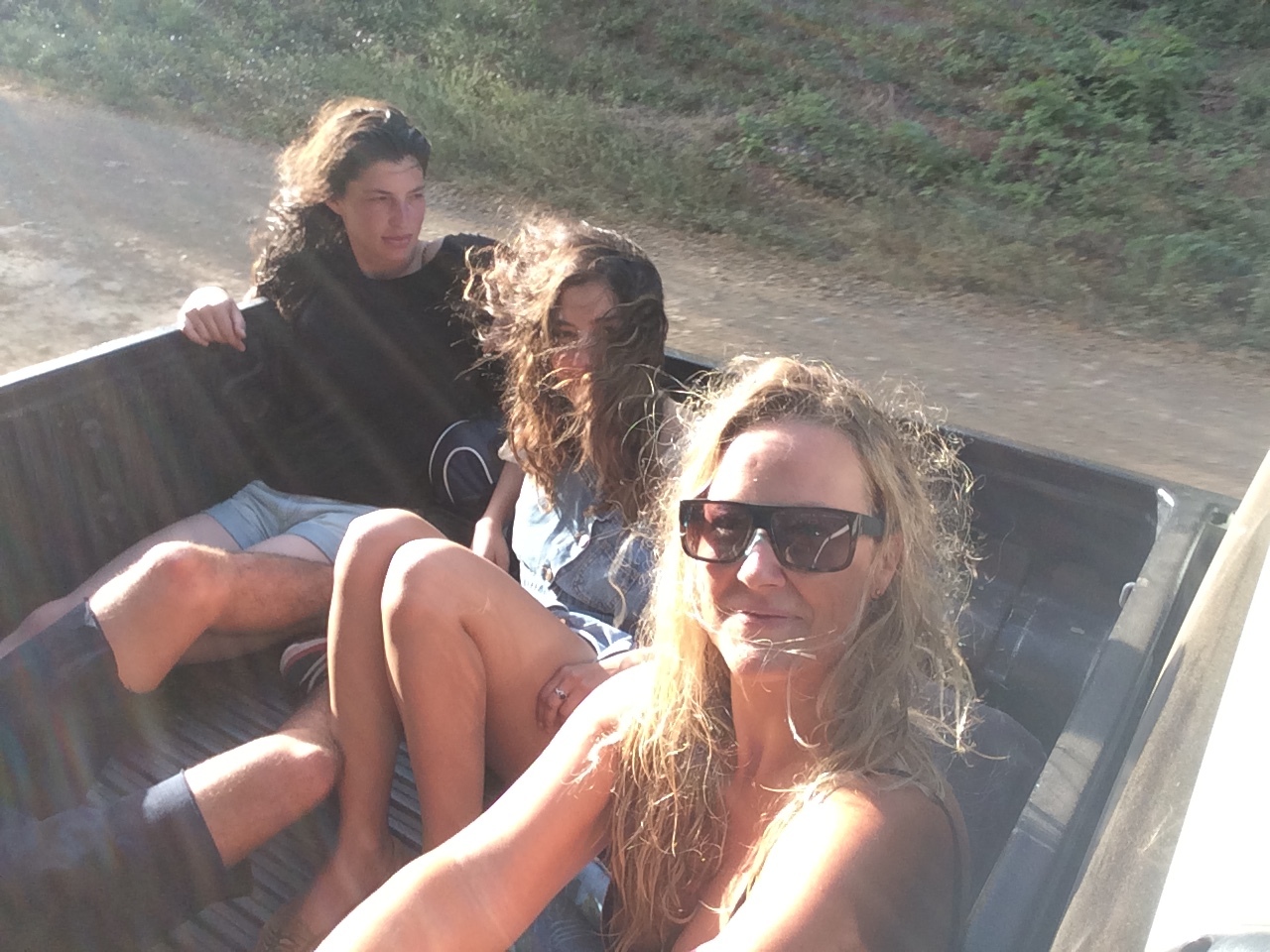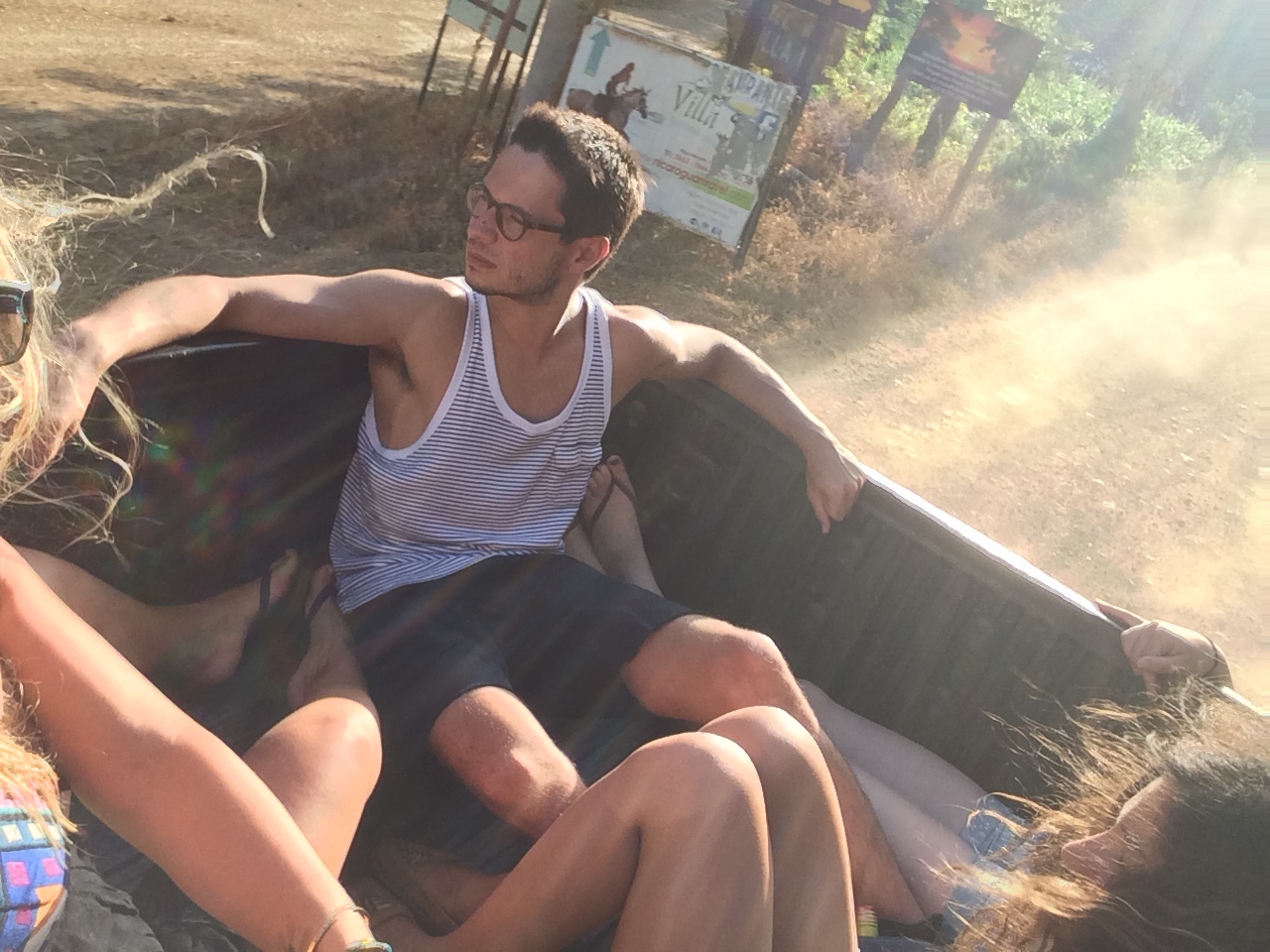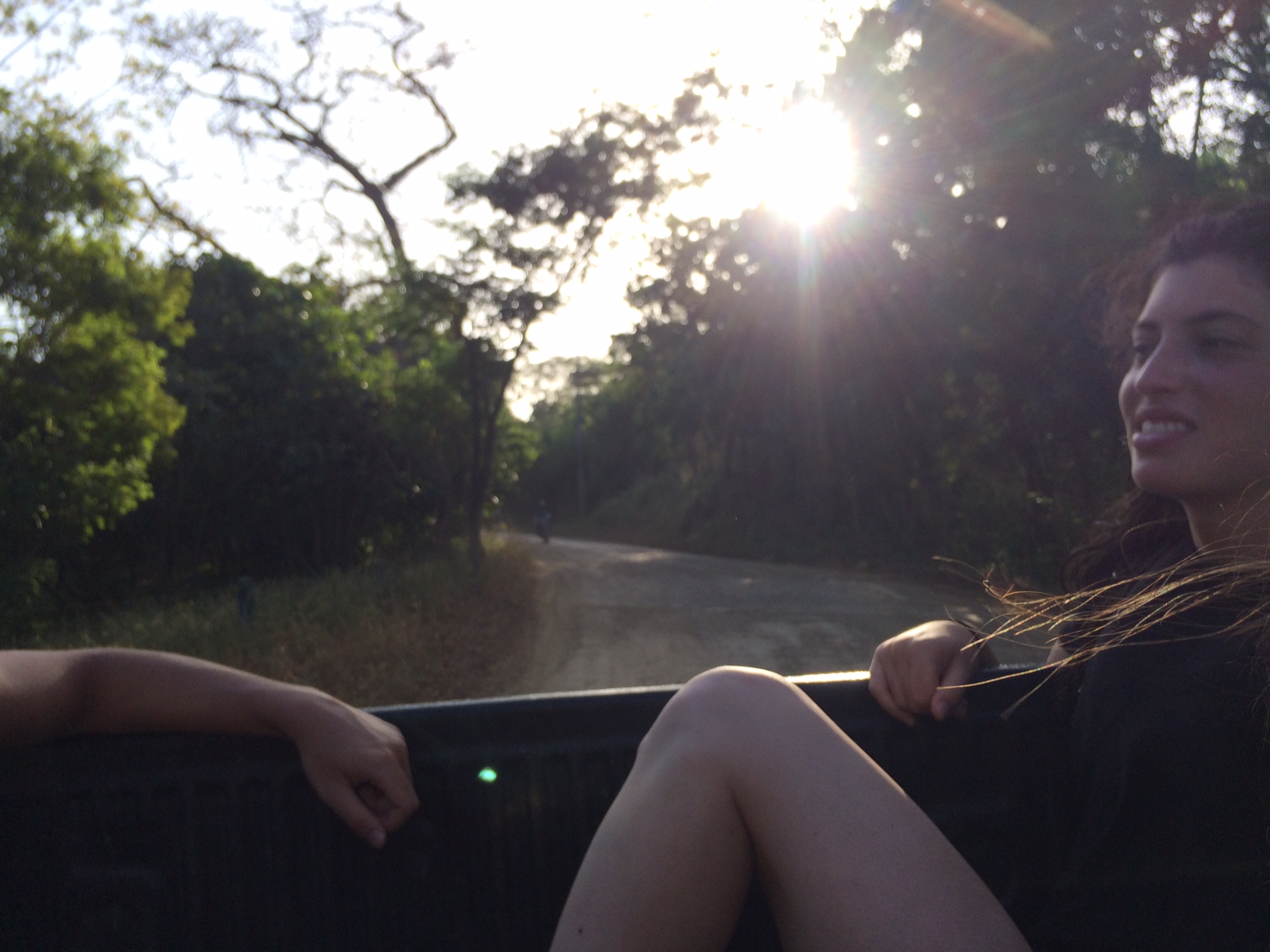 Except for the cerveza-in-hand part, riding in the back of the pick-up reminded me of childhood days spent at the Savage's farm, hooting in laughter, rolling around like marbles in the back of the pick-up truck as we rounded corners on route to Ming's corner store. For years we called him Bing - he never corrected us. A frequent trip we took to return the pop bottles we'd collected in exchange for bags full of candy - every last penny worth. I loved spending time at the Savages. Besides being my closest neighbours, they were my besties growing up. All the best memories of my Ladner, BC childhood were spent at their house and farm. We built forts out of hay bales. We rode bikes and pretended they were horses. We played veterinary clinic to the injured animals and abandoned baby birds and rodents. We held formal burial sessions for the ones that didn't make it (which was most of them). We cuddled calves in their pens, letting them suck on our hands and chins and elbows, the whole time wagging their little fluffy tails. We shovelled shit - a lot of shit. We trained our 4H yearlings to walk with leads, like dogs. We laid with them in their (clean) stalls and they'd wrap their heads around us, letting us recline in the nook of their strong necks. We milked cows and fed pigs and rode horses. We mucked around in ditches to catch frogs and tadpoles. We skated in flooded fields when they iced over in Winter. We jumped on the trampoline on hot summer days, slip sliding around in soapy water, always nearly (and sometimes) breaking limbs. We spent rainy days playing Super Mario Brothers and Duck Hunter. We snuck expensive yogurt out of the dairy and feed it to the gangs of feral cats in the barn. We watched movies like Porky's Revenge and Animal House that we were too young to watch. We ate cookies and donuts and McDonalds and sugar cereals. I was in heaven. They always had sugar and junk food in their house, something my health-nut mom deprived me of as a kid. The girls could take it or leave it out. Me, on the hand, I was a fiend. I was the little girl that brought her own food to birthday parties and was carefully programmed to say "I'm sorry, I'm not allowed to eat that". Mr. And Mrs. Savage had a really successful dairy farm, called Jersey Farms, so they spent a lot of time away from home, working and travelling. Our supervision was frequently left to their nanny or older sisters, which meant that when I was there I could live as my true self - the little girl that ate whatever she wanted to. Needless to say, I spent more time at their house than I did my own, and I was a monster whenever I came home, or so my mom says. It validated her decision to keep sugar and processed food out of our house. For me now, looking back on her decision, I think moderation would have been a better idea, instead of the sugar addict she created. The one that would also steal the sugar cubes from her grandma's tea service and quietly suck on them in the corner.
Ah memories, remembering these times on the farm brought a smile to my face. The Savage family was really good to me and I never got to give them a proper thank-you, so to Marj, Alan, Barb, Christine, Alana and Daryna, thank-you! I was kind of the 5th sister, or so I thought anyways. :)
From what I hear, expats are flocking to SJDS, but I like that it is still an authentic Nicaraguan town. It's city centre is spread out like a grid and one-storey, vibrantly-painted boxes line the stone tiled streets. I hear many of the Nicaraguan towns are like this, like Granada, so I'm excited to see more. For this trip though, since I had to get back to Costa Rica, SJDS would be the only one I'd see. I'd need to spend more time in SJDS as I can't say that I really truly experienced it. I'm kind of looking at it with rose-coloured glasses, since I didn't stay in town and I only frequented two square blocks that encompassed Auric surf shop, where I bought my new Nica trucker hat, and Cerveceria, a brew pub started by a couple American guys.
So far, Playa Maderas is a front runner in my search to find a home. Coming in second is Matapalo, where I am now. Playa Maderas is not nearly as lush and beautiful as Matapalo, but I think I prefer the drier heat. Plus, it is significantly cheaper than anywhere in Costa Rica and hasn't experienced the surge of development that Costa Rica has. Yet. It is coming. There's a couple more places that I want to check out along the Pacific Nicaraguan coast - Playa Gigante and a surf break called "the Boom" that Black Jesus, Maderas Village's resident wellness guru told me about.
That's it for this entry. The wifi in Matapalo is almost non-existent, so I suspect this won't get posted until I get a chance to go into Puerto Jimenez. I haven't really even been able to return messages or finish conversations. If you're one of the friends I've been communicating with where I've dropped out mid-conversation or haven't answered, I apologize. After a couple attempts trying to respond and having the messages bounce back unsent, I kind of just give up. You could say it's a forced vacation from social media, which I probably need.
Stay tuned for my next post about Bocas Del Toro.