I wrote this post in a shuttle from Tamarindo headed bound for San Jose. Normally, I would avoid San Jose, but I had to get another shuttle to Bocas Del Toro, Panama in the morning. I talked in my last post about my glamorous Christmas and New Year's spent with the Scott family in a sprawling Rancho in Playa Negra. Well now I get to tell you about one of those not-so-glamourous sides of travel.
The night before I went to San Jose, I stayed in a crappy, overpriced hostel ($35 USD/night for a bunk bed in a dorm room) in Tamarindo called Pura Vida Mini-Hostel, which I booked through the HostelWorld app. I was lucky that I even found a bed last minute, coming off of one of Christmas and New Years, the busiest holidays here. Yes, I had a place to sleep, but I can't say that I did any sleeping. There was a beer pong tournament/frat party on the other side of my window. The gang was having fun and I wasn't going to be the one to shush them. Instead, I just suffered through it. The hostel was full, so they were unable to move me and, sadly, no luck on earplugs. I feel like that should have been a disclaimer though when they gave me the bed. I noticed the ping pong table on the way in, but my mind didn't go to "people are totally going to play beer pong there". Beer pong wasn't around when I was 20. I actually wasn't even thinking it was a party hostel. I don't have anything against party hostels, but you should be able to find solace from the party, should you choose to. (Because you're old and no fun). The night didn't stop there though. The story gets better. Around 3 am, I was awakened by someone clumsily trying to open the door. After ten thousand tries, he finally got the right key and crashed his way into the room. I closed my eyes and tried to ignore the commotion, but then I could feel his hot, boozy breath wafting towards my face with every exhale. On the top bunk I was eye level to him standing beside me. I figured he was just getting ready for bed, so I turned and faced the other way to get away from his toxic breath. I heard him fumble around in the dark, opening and closing drawers to the side table, knocking the lamp over. In my head I thought, jeez, I think he's looking for the toilet. Sure enough, a second later, I can hear the stream of pee splattering on the tile floor. I shined my headlamp on him and gave him a "What the fuck?!" Now everyone in the room was awake. He came out of his daze enough to run into the bathroom to finish relieving himself. He must have been super wasted because when he came back, he tried to climb, naked from the top down, into the top bunk with the girl that was sleeping there. She let out a shriek. We were able to redirect him to his bed below, oblivious to anything that just happened. He was young, drunk and harmless, but it was annoying because 1) there was piss all over the floor, and 2) I had to get up early to catch my shuttle. You live and learn: 1) don't stay at the Pura Vida Mini hostel and 2) pay attention to those crappy reviews on Trip Advisor, and 3) don't leave your bags on the floor. If I had done more research, I would stayed at La Oveja Negra, a hostel, restaurant, and surf camp with a cool vibe, comfortable space, good food, good music, good decor. I never saw the rooms, but I liked everything about it. I eat up a good atmosphere. I ate dinner there, dreading going back to my own hostel. Overall I wouldn't come back to Tamarindo ("Tamagringo"). Just not my scene. I only came to Tamarindo so I could get the shuttle and one night was more than enough. While it is a town with some amenitites, it is also tacky, touristy, kind of sketchy, totally overpriced and the beach really isn't that nice, compared to a lot of other places I've been in Costa Rica. I guess it could have been my vibe 20 years ago when it was still a surf town, but it's not now and now I choose to be picky. But apparently not picky enough to avoid the Pura Vida Mini-Hostel. Haha. I did find a good Americano the next morning at Cafe Tico, but that wasn't enough to redeem Tamarindo, in my books.
Tamarindo had put a bad taste in my mouth and got me thinking as to why. Bare with me as I try to talk through it.
I like travelling in Central America, and other foreign places for that matter, because I get to experience a culture that is unlike my own. There is inspiration everywhere. An explosion of the senses. I can taste new flavors, observe new sights, smell new smells, experience new feelings and meet new people (some that say profound things). Sometimes - all those things - while new, are not always good or comfortable and sometimes even scary. That's the fun part though.
It's those heart beating out of your chest, sweat pouring off your brow, on the verge of puking, scary and uncomfortable positions that force you out of your comfort zone and on the path to personal growth. Comfort IS easy, and boring, so choose the stuff that makes your soul come alive, "only hold space for the stuff that gives you goosebumps".
One of the reasons I am choosing to move from Canada is to get away from that routine, where everyday is the same and we only work to live in a house (we can't afford) and spend money (we don't have) on crap (we don't need). Talk about stress. Living out of a backpack, you learn to survive on less, whittle down to the the most necessary, while constantly shedding the stuff that weighs you down. I'm only two months in - I'm still learning.
In Canada and the US (and perhaps other areas of the world that I have yet to visit), it's easy for people to live Groundhog Day. You wake up, grab coffee at Starbucks on your way to work, sit in traffic, grab Subway for lunch, maybe another Starbucks in the afternoon, drive home, stop at Walmart for groceries or grab something quick for dinner, drive home, go to bed, repeat the next day and every day after that. Versions vary depending on where you live. No matter where you are you can find a Walmart, Subway, Starbucks, Old Navy, Home Depot, etc. within a 50-100 mile radius. Living that kind of life isn't going to make the fire inside you come alive. This was my reality in the past, It is not my life now, but it is a reality for a large percentage of the North American population, including people I know. I'm using these as an extreme example, so I'm hoping you get my point. This life is making us fat, lazy, bored and uninspired. We sit back, our souls numbed by comfort, while our bodies are literally, killed by convenience.
You can see the strip mall/big box plague creeping into Costa Rica. Every time I'm here, I see a little bit more. Tamarindo just reminded me of how much it bothers me. When I'm in Costa Rica, I don't want to be reminded of the lazy convenience or false "comforts" of home. I don't want to shop at Walmart or Subway or Starbucks. There is very little culture or individuality, only sameness and mediocrity. There can't be anything special in a model that leaves no room for the "little guy" who, unable to afford the high rents or compete on price either shuts down or never opens at all. It's sad. Corporate, cookie cutter, big box, brand centres like a plague, have spread town-to-town across America, where, driven by price and convenience AND COMFORT, we are (subconsciously or not) forced to shop at the same stores, eat at the same restaurants, live in the same houses, wear the same clothes... The list is endless. Sorry, that's not my idea of living well. I want to experience culture and feel any discomfort that may come along with it. I want to feel the goosebumps.
And that, my friends, was my societal commentary for the day. If you're still reading, I'll move on to Christmas and New Years at Playa Negra...
PLAYA NEGRA
Andrew, Ingrid, Levi and Sam, friends from Squamish, dropped me off in Tamarindo. I spent ten days with them and Andrew's extended family. Andrew and Ingrid (and Levi, now 4) and I have had many trips together: numerous Maui vacations, a month in Peru and the Galapagos, snow season sat Whistler And with the extended Scott family, I've had many holidays where they've taken me in (Christmas, Thanksgiving, Easter, etc.). I'm not really much of Christmas person, but it was comforting being with an adopted family for the holidays, when I couldn't be with my own. Comfort! There's that word again! My sister Danica, in true sarcastic Danica fashion, let me know that they missed me for Christmas Day, as there was no one else to sit and sulk while they opened presents. Yeah, Christmas really isn't my thing. It's true, I sulk. I try not to. I'm not into the materialism of it and generally, it overwhelms me. I've been known to spend a Christmas or two in tears.
Christmas in Playa Negra this year was different. There was no build up. I arrived in Playa Negra on Christmas Eve. Christmas Day morning the kids opened gifts from Santa. Christmas afternoon we rotated between the beach out front and the infinity pool. No pressure. I didn't sulk. I didn't cry. I enjoyed myself. So here's a big warm thank-you to Craig and Kathy, Andrew's parents, Andrew and Ingrid, Jennifer (and Clark) and Stephen (and Elise), Andrew's siblings, for taking me in over the holidays.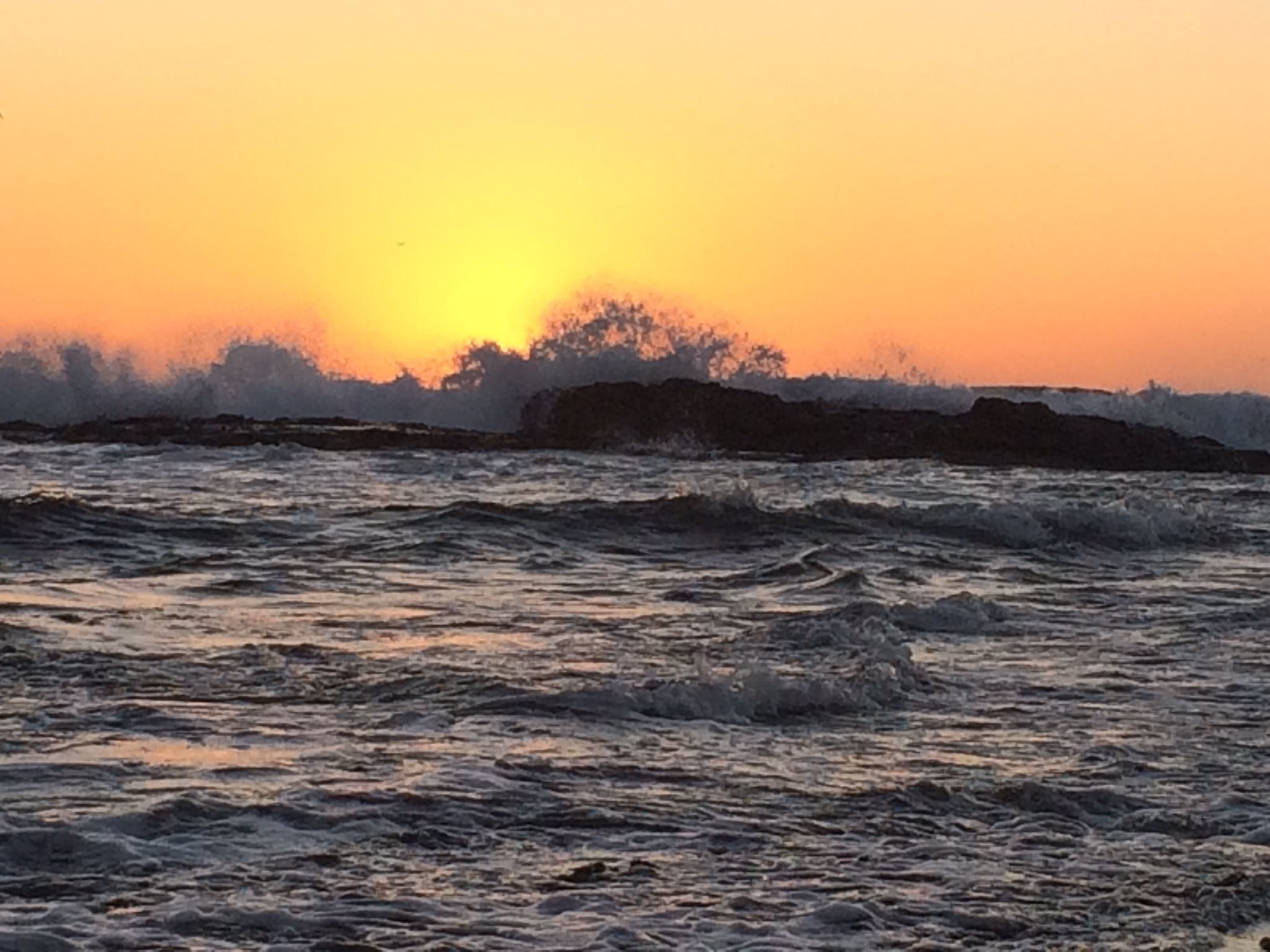 There's not much in Playa Negra, aside from good surf, miles of beautiful beach, a hotel, a few cabina places, a surf shop and a couple little restaurants.
There's a famous restaurant called Lola's on the beach at Playa Avellanas. When I arrived at the Rancho, Ingrid and Andrew were at the hospital. Their youngest, Sam, had taken a bite of a little green apple, also known as a "death apple" while sitting at Lola's on the beach. The sap from this fruit is so dangerous, it's said that it can kill you just by sitting under it. Pretty scary. He ending up being okay, but was off the rest of the trip. They are sure going to have their hands full with that one. Ha.
It was really sad leaving them. We've spent a lot of time together. I've watched their oldest, Levi, grow up. We're buds. Ingrid texted me later to tell me that as they pulled away from me Levi said, "Mom, that was kind of sad. I'm going to miss Bridey". Back at ya Levi. I'm going to miss you. And your mom and dad. I know that as soon as I find a place with a surf break, they'll be down to visit.
For the past 7 weeks I've had friends scheduled in to meet up with: Amy and Chris in Santa Teresa, Megan, Isa and Becky in Dominical, and now the Scott's in Playa Negra. Every time I meet up with friends I settle into vacation mode and every time a friend leaves, I'm projected back into reality. I have other friends that have talked about making the trek down, but mostly when I'm "settled" somewhere. My sister wants to bring my nephew down during Spring Break in March. That's it now though. Now that Ingrid and Andrew have gone home, there no other scheduled visitors. Time to get back to work, for real this time. I've got a home to find!
I mentioned in my last point that I was about a month behind in my posts. I need to get caught up, so I'll use the rest of this post to talk about Manuel Antonio, where I went after Dominical, and in the next post I'll talk about my Penas Blancas border adventure, Maderas Village and San Juan Del Sur, Nicaragua.
MANUEL ANTONIO
I caught a bus from Dominical to Manuel Antonio on December 14. I don't mind taking the buses here when it's an easy connection. The bus system is cheap, safe, and (fairly) easy to navigate. When I arrived at the bus station, a friend picked me up and dropped me off at a hostel I found on Trip Advisor, Hotel Plinio. Luckily they had a room. The town of Manuel Antonio is built on a hill overlooking the water. The Main Street winds up from Quepos and then down to the water and the National park, the latter being the tourist draw. It definitely is a built up tourist town, but it has charm, unlike Tamarindo. Once I checked in and got my room, Phillip and I headed out to grab a bite. The restaurant sat on the cliff and would have had a magnificent view of the water during the day. It was dark outside, but there was a dry lightning storm on, so every time a lightning rod lit up the sky, we got glimpses of the ocean and the skyline. Suddenly, everyone in the restaurant was brought to their feet by the sound of an explosion and a bright flash of light. The glasses broke on the table next to us. My heart stopped - what the fuck was that? I felt like Evry cell in my body was buzzing. Pretty sure the building we were in was struck by lightning. I noticed afterwards that most roofs had a lightning rod. Never experienced that before. Of course I'm googling "symbolism of being struck by lightning" now. Ha.
I ended up staying 4 nights in Manuel Antonio. I just kept extending my stay and the friendly staff there would play musical beds to accommodate me. I never stayed in the same bed (or Sam room) twice. I also never really unpacked my big Poler Stuff backpack. I've learned to live mostly out of my small lululemon backpack and my cheap mesh plastic Frida Kahlo bag (which Sonnen brought back for me from Mexico almost 10 years ago for looking after her cat). I seriously don't need half of the stuff I brought with me.
The hostel had a great hangout area and I met quite a few people there. I used my time in Manuel Antonio to do tourist things during the day with people I met at the hostel.
l explored different "secret" beaches.
I learned how to put myself in a picture multiple times, thanks to Amanda and Aaron. Still to be refined, as you can see.
I hiked the National park in search of wildlife.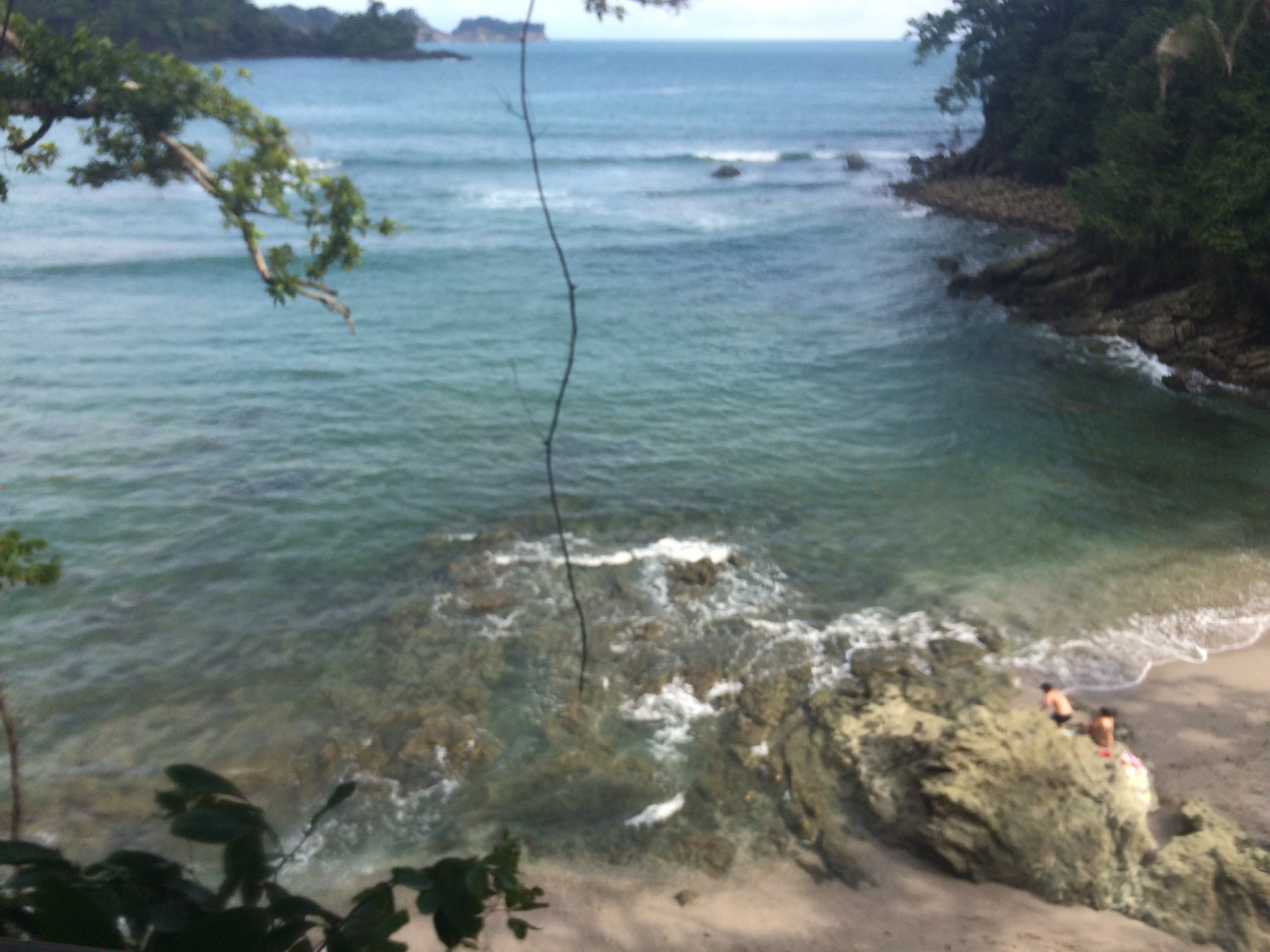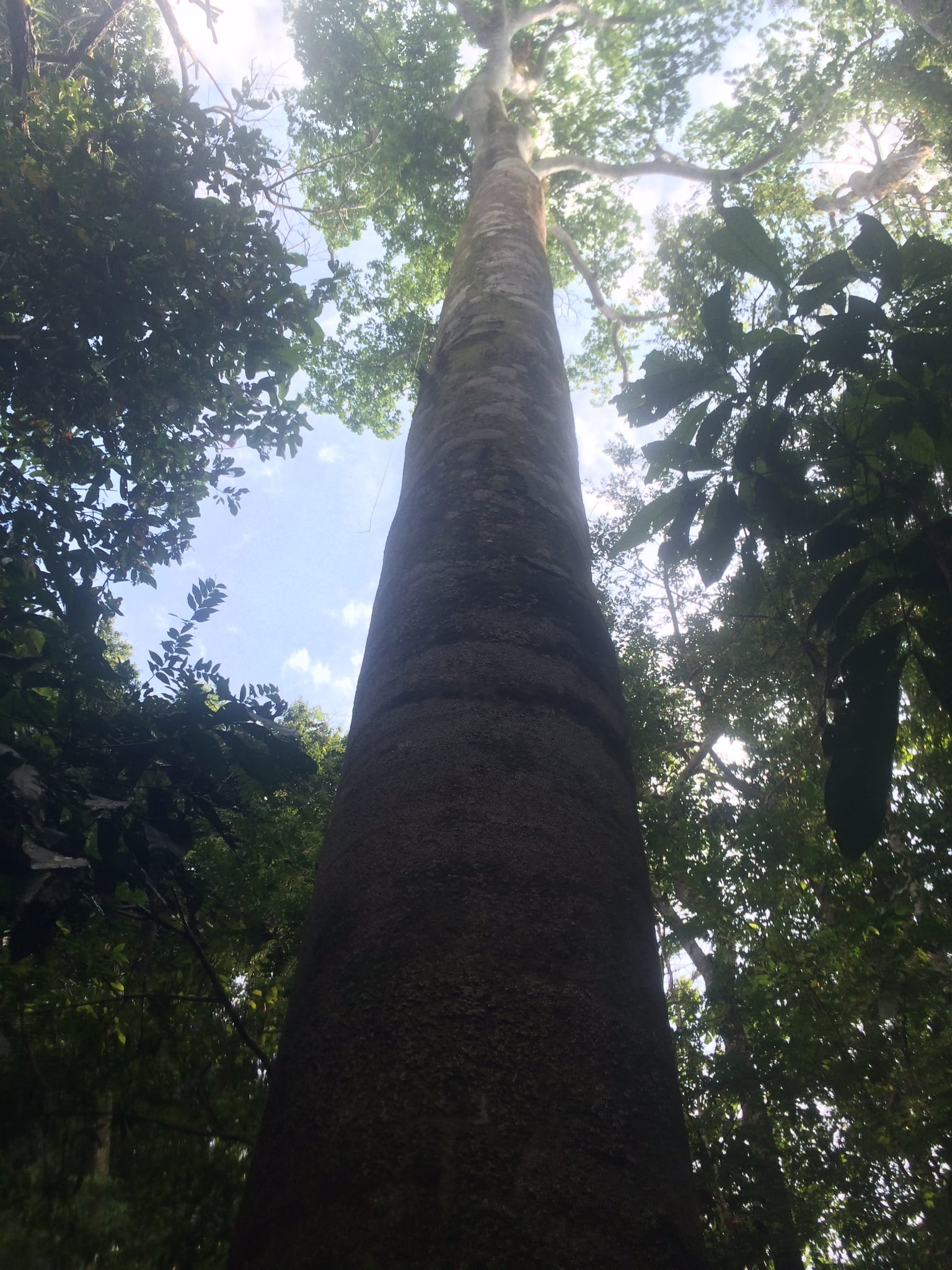 You're lucky if you see a sloth. Monkeys are the big draw there: spider, Howler and white faces. The white faces are the ones to watch out for, and the raccoons too. The second you've left your stuff unattended, they'll rummage through your bag. They're fast and they're not shy. A girl I met told a story of observing a monkey stealing a pack of cigarettes from someone's bag at the beach, taking them up into the tree, where he opened the pack and bit into the cigarette. Disgusted when he realized he couldn't eat it, he proceeded to throw each one on the ground one by one. Little fuckers. Ha.
I had been drinking the drip at the hostel all week, which I will admit wasn't bad. On my last day there, I found a good coffee place called Emilio's. Best coffee place to sit and sip in Manuel Antonio, hands down, I could have spent the whole day there. I had also tried Milagro's, which had excellent reviews, but I wasn't overly impressed with the coffee or the vibe.
I would have left Manuel Antonio after 3 nights, but I was waiting on a ride. I'd met an American guy named Marco in Santa Teresa and then I'd seen him again in Dominical. He used to work at the GLC in Whistler, so we knew a lot of the same people. Small world. He wanted to meet friends north of Tamarindo and I wanted to get up North so I could head to Nicaragua, so it worked out for us to share the cost of the car. And the conversation was good. We stopped in a small beach town called Esterillos, which had potential to be a location to explore, should I decide to settle in Costa Rica.
After about a 5 hour drive, Marco dropped me off at the Liberia bus depot and I hopped on a bus to Penas Blancas at the Nicaraguan border. The border proved to be my most challenging travel adventure yet. But you'll have to wait until the next post to hear about it!